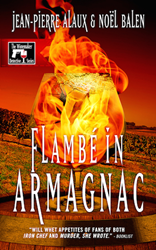 A smooth, jubilatory discovery of French wine country.
New York, New York (PRWEB) July 06, 2015
The publishing house Le French Book, specialized in translated mysteries and thrillers, has bumped up Kindle publication of Flambé in Armagnac, by Jean-Pierre Alaux and Noël Balen. This cozy mystery is part of the Winemaker Detective series, which bloggers are calling "an obsession."
Publisher Anne Trager comments, "The print publication is planned for August, but we wanted to get the Kindle version out for those midsummer readers who enjoy a good mystery set in a foreign clime."
In the heart of Gascony, a small town holds fiercely onto its secrets after a fire ravages the warehouse of one of Armagnac's top estates, killing the master distiller. Wine expert Benjamin Cooker is called in to estimate the value of the losses, but he and his assistant Virgile want to know more. How did the old alembic explode? Why is the estate owner penniless? How legal are his dealings? The deeper the Winemaker Detective digs, the more suspicious characters he uncovers. There is more than one disgruntled inhabitant in his small town. As we witness the time-honored process of Armagnac distillation and the day-to-day activities of the hunt, the market place, and the struggle for power and duck confit, we get a glimpse of the traditions of southwestern France, where mystery and possible murder lie below the surface.
First reviews
"You'll travel to France to taste the complex flavors, the unraveling of a mystery, while relishing the French countryside, the gourmet dishes, and the simple pleasurable delight of this rare series." —5-star educator review
 
"A smooth, jubilatory discovery of French wine country. I love these." —5-star reader review
"A good vintage with tasty dialogue and a solid plot." —Tele-loisir
"The Armagnac producers, the landscapes, the vineyards… it's like being on vacation in the pure sense of the word: that of the mind, with all the senses being free." —French actor Pierre Arditi, who stars in the TV series
I find myself looking always on the lookout for the newest volume in this fun, cozy mystery series." —Book Likes
About the series
Irony, food, wine, and passion. These four words describe the Winemaker Detective series, which follows wine expert Benjamin Cooker and his sidekick Virgile on their adventures in French vineyards. These amateur detective/cozy mysteries with a distinctly French flavor are perfect for readers who love France, wine, and gentle mysteries or any combination of these.
About Le French Book
Le French Book is a New York-based publisher that brings France's best mysteries and thrillers to new readers across the English-speaking world. Its motto is: "If we love it, we'll translate it."
©2015 Le French Book, Inc. All rights reserved. Information is subject to change without notice.