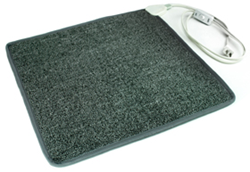 Cozy Toes keeps our feet warm and comfy even with the extremely cold temperatures we're seeing this winter
Cleveland, Ohio (PRWEB) February 18, 2015
The new Cozy Toes Carpeted Foot Warmers provide warm, radiant heat under your feet where it does the most good. Unlike space heaters that typically consume 1500-2500 watts and only bake one side of the body, Cozy Toes mats use only 70 watts and provide radiant heat all around the feet.
Cozy Toes reduce the cost of running space heaters by 95%, and are UL-listed. Operating at 110VAC and using 70 watts means less risk of tripping circuit breakers and reducing the fire hazard space heaters may present.
The polypropylene carpet surface is backed with a fabric that includes non-slip gripping dots. Weighing only three pounds, the heated carpet mat may be easily moved around a home or office.
"Cozy Toes keeps our feet warm and comfy even with the extremely cold temperatures we're seeing this winter," states company president Dan Ruminski.
These heated carpet mats measure 7.75" L x 17.75" W x 0.25" thick, and improve both comfort and productivity, especially on cold surfaces including linoleum, tile or concrete slabs.
About Martinson-Nicholls
Martinson-Nicholls, has established itself as a leader in custom anti-slip tape, floor mats, and eco-friendly products for more than 60 years.
Martinson-Nicholls provides the customer with the exact size matting needed--small, large, standard, nonstandard, special shapes and logos. Custom installations are also a specialty of the company.
Anti-slip safety tapes and treads are available in various sizes and textures from hand cut or die cut pieces to full rolls and special shapes. For more information, please visit http://www.floormat.com.