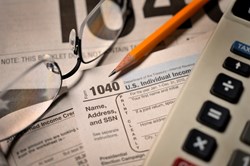 Pottstown, PA (PRWEB) October 02, 2013
Timothy D. Forester, CPA Pottstown, PA has joined The Life Financial Group. Tim will bring over thirty years of tax preparation and investment knowledge to benefit the clients of Beacon Tax Services, a division of The Life Financial Group.
Some examples of the services that Tim can offer:

Accounting assistance for churches, businesses, nonprofit groups & private schools
EITC / OSTC – which allows PA businesses to reduce taxes while helping schools
Evaluate operations for efficiencies – reduce costs, unnecessary exposure
Sales and excise tax savings – to not waste funds needed for mission
Financial review of church records – look for proper stewardship controls
Minister tax preparation – assistance with the special benefits afforded ministers
Safety Committee - assistance in formation - save worker's compensation insurance while keeping employees safe.
Estate assistance – help with paperwork at a very difficult time
Charitable & planned giving administration
Endowment & investment accounting – maintaining proper stewardship records
Planned giving discussions – reduce taxes while helping fund mission
Tax Preparation – Individual and Business taxes
Trusts – for example, Charitable Remainder Unit Trusts (CRUT's)
S-Corporations
LLC's
Private foundations
Individuals
General tax planning
Budgeting

Individuals – getting the order correct – giving, saving, spending, offering, luxuries
Businesses – proper stewardship of resources
Nonprofit organizations - proper stewardship of resources
Investment, trust and estate tax planning
Media Contact
Timothy Forester
610-385-4500
TimForester(at)theLIFEgroup.org