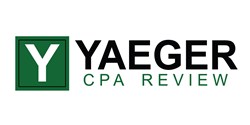 Frederick Maryland (PRWEB) August 01, 2013
Yaeger CPA Review doesn't define itself according to the CPA review materials, courses, and CPA exam study resources it offers. Those are important elements, to be sure, part of what distinguishes Yaeger from other programs—but the true essence of Yaeger is found in the tens of thousands of students who have graduated and gone on to establish themselves as accounting industry leaders.
Yaeger CPA Review is proud to celebrate the success of its many alumni peers who're now enjoying esteemed accounting positions across the world! To that end, Yaeger has launched a new page on its expansive online platform—Where Are They Now? Here, you'll find a rotating selection of student success stories, people from all backgrounds who've used the knowledge and skills gained from Yaeger to make their mark on the accounting industry.
And as Yaeger CPA Review is always seeking reasons to give its students a high-scoring edge, the CPA review program has a special offer just in time for the upcoming American Accounting Association Conference. While the AAA conference is running, from August 3rd to the 7th, Yaeger students can enjoy a discounted Yaeger CPA Review Course Bundle!
The Yaeger CPA Review Course Bundle includes 132 hours of video lectures, customized study plans, interactive textbooks, quiz simulations, and much more. By ordering with the offer code ANA2103, students will only pay $1,695...savings of $421 off the full bundle!
So visit the Where Are They Now? page today and be inspired by those who've gone before you—while gaining the confidence that Yaeger CPA Review represents one of the wisest investments you can make in your future accounting career. Then secure that investment with this limited-time deal that gives you access to premier CPA exam prep materials and software.
Will you be the next Yaeger alumni success story?