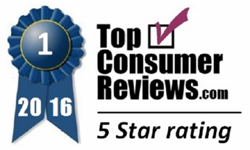 Yaeger CPA Review takes a traditional approach to studying for the CPA exam, all while making full use of modern technology.
Overland Park, KS (PRWEB) August 01, 2016
TopConsumerReviews.com recently gave their top rating to Yaeger CPA Review, a market leader among CPA Review programs.
Passing the Certified Public Accountant (CPA) exam can be challenging. Even the best and brightest accounting students may struggle to pass the four-part test. For more than 40 years, several companies have created CPA Reviews to help both students and current accounting professionals to pass the exam with flying colors. With advances in modern technology, many of these CPA Review programs make use of multiple formats - DVD, audio, video, and even interactive online components - to meet the needs of students with a variety of learning styles.
"Yaeger CPA Review takes a traditional approach to studying for the CPA exam, all while making full use of modern technology," according to Brian Dolezal, of TopConsumerReviews.com, LLC. "Yaeger uses recorded classroom lectures to help students truly master the concepts on the CPA exam, rather than relying on rote memorization. Yaeger's CPA Review package of more than 125 hours of lectures, custom study plans, interactive textbooks, and much more gives students their best possible chance at passing the CPA exam. With an excellent 88% pass rate, many satisfied customers, and the ability to work directly with the creator of the program, Yaeger CPA Reviews easily earns our highest rating in 2016."
To find out more about Yaeger and other providers of CPA Reviews, including reviews and comparison ratings, please visit the CPA Reviews Products category of TopConsumerReviews.com at http://www.topconsumerreviews.com/cpa-review/.
About Yaeger
Created by CPA Dr. Phil Yaeger in 1977, Yaeger CPA Review evolved from a 100% live course to a modern system of delivery, helping students pass the CPA by emphasizing mastery of concepts over blind memorization. Even with thousands of students throughout the world, Yaeger CPA Review does business the old-fashioned way, providing personal service and relying on word-of-mouth referrals from successful students.
About TopConsumerReviews.com
TopConsumerReviews.com, LLC is a leading provider of independent reviews and rankings of hundreds of consumer products and services. From CPA Reviews to Resume Builders and Personal Loans, TopConsumerReviews.com delivers in-depth product evaluations in order to make purchasing decisions easier.