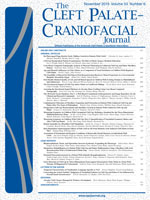 Lawrence, Kansas (PRWEB) January 31, 2017
The Cleft Palate–Craniofacial Journal – Equal access to health care for minorities has long been a topic of political discussion. A prime example of this issue comes in the form of children with cleft lip and palate, as the timing and insurance coverage for these surgeries can vary widely. In an article published in the current issue of The Cleft Palate-Craniofacial Journal, researchers examined what factors contribute to this variance and whether race, economic status, or insurance coverage can cause these surgeries to be less timely for minorities.
Researchers from the Children's Hospital of Philadelphia studied whether crucial cleft lip surgery is delayed for minority children or families that rely on public insurance coverage. Prior research has found that patients who are minorities or are insured through Medicaid or a state Title V program tend to have less access to health care than white, privately insured patients. The researchers of this study suspected that this trend could affect children with cleft lips who need the corrective surgery, specifically focusing on alveolar bone grafting (ABG) surgery. This procedure takes bone from the child's pelvis and uses it to repair the birth defect.
The researchers reviewed 13 years of records to determine when patients at the Children's Hospital of Philadelphia underwent ABG surgery. A cleft lip, with or without a cleft palate, cannot be properly repaired without the ABG operation. The ideal timing of the surgery is controversial, but unplanned delays can affect a patient's appearance and health.
The researchers found that among the 233 patients included in the study, the average age of a child at the time of ABG surgery was 8 years. However, Caucasian and Asian patients underwent the surgery about one year earlier than their African American and Hispanic peers. Most of the surgeries examined in this study were performed on white males. Asian children, most of whom had been adopted into white families, received timely care once they were in the healthcare system. Insurance status did not greatly affect the timing of the surgery for patients in the study, and less than 20 percent of the patients were on public insurance programs.
Receiving timely cleft care is a difficult challenge for minority patients and their families. Because of this, changes must be made to how minority patients interact with cleft referral centers to ensure African American and Hispanic children receive cleft surgery at the appropriate time. The researchers of this study concluded that race, not insurance status, is a factor in the timing of ABG surgery, and the experiences minority patients have with the healthcare system is a problem that needs to be addressed.
Full text of the article "Minority and Public Insurance Status: Is There a Delay to Alveolar Bone Grafting Surgery?" The Cleft Palate–Craniofacial Journal, Vol. 54, No. 1, 2017, is now available at http://www.cpcjournal.org/doi/full/10.1597/15-173.
###
About The Cleft Palate–Craniofacial Journal
The Cleft Palate–Craniofacial Journal is an international, interdisciplinary journal reporting on clinical and research activities in cleft lip/palate and other craniofacial anomalies, together with research in related laboratory sciences. It is the official publication of the American Cleft Palate–Craniofacial Association (ACPA). For more information, visit http://www.acpa-cpf.org/.