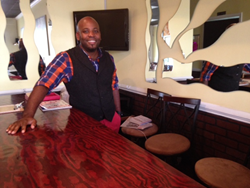 Already bustling with resident-led health initiatives, Arbor View serves as a powerful example of the change that is possible when residents have a real stake in their communities. CPDC President Michael Pitchford
Silver Spring, MD (PRWEB) May 15, 2015
With few healthy food options nearby, for residents of Southeast Washington, D.C.'s Arbor View community, access to organic produce and nutritious meals is a daily challenge.
To answer the need, on Saturday, May 16 CPDC, Capital Area Food Bank, Casey Trees, and Café Rue have teamed up for a Food & Nutrition Community Greening Day to combat poor nutrition and limited food choice and to establish healthy, fresh food options where it matters most: at home.
The Community Greening Day will feature fruit tree and garden plantings sponsored by the Capital Area Food Bank and Casey Trees, dedication of a new community center, and a cooking demo and tasting by local Chef Cole D. Whaley, of Cole's Palette Food Truck and Café Rue. Whaley will demonstrate flavorful and healthy ways residents can prepare the fruits and vegetables being planted in the Arbor View community gardens. The food demo is sponsored by donations from local grocers Giant and Mom's Organic Market.
"The healthiest option is to eat at home. This is even more important in a community that is food-challenged not only in terms of means, but in terms of access" Whaley said. "My goal is to show residents how to work with what they've got right on property and to prepare food in a way that maintains flavor while keeping vitamins intact."
Already bustling with resident-led health and nutrition initiatives, "Arbor View is merely one community in our portfolio that serves as a powerful example of the change and progress that is possible when residents have a real stake in their communities," said CPDC President and CEO J. Michael Pitchford.
The Community Greening Day will complement and expand an existing robust culture of health and wellness at Arbor View. In the past year, residents cultivated a small community garden with no prior education or assistance, operated a food pantry (open to all of Ward 8), hosted a health-themed summer camp, and tapped into city vouchers to purchase organic fruits and vegetables from local farmer's markets.
The efforts have not gone unnoticed; CPDC partners including Fannie Mae and Capital Area Food Bank have provided support to Arbor View's food, nutrition, and health-focused resident programs.
"We know that eating more vegetables and fruits can help people live happier and healthier lives, but some neighborhoods in our area suffer from a lack of access," said MJ Crom, Food Growing Capacity Coordinator at Capital Area Food Bank. "Communities like Arbor View that grow their own food help fill in these gaps—and with fresh, tasty garden produce in their backyards, residents have increased control over their health."
CPDC this month completed a $5 million reinvestment in the 156-unit garden apartment community, including complete rehabilitation of 51 units, renovation of the nearly 5,000 square foot on-site daycare center, and new outdoor amenities. The property's community center was also expanded to accommodate a range of resident programs and the growing food pantry.
A leading developer of affordable housing communities in the Washington, D.C. region, CPDC is well known for its long-term investment in communities through on-site resident services in health and wellness, environment, education, economic development, and resident engagement.
MEDIA OPPORTUNITIES
The May 16 Arbor View Food & Nutrition Greening event will take place from 9:00 am to 12:00 pm and feature a cooking demo and tasting by nationally-recognized Chef Cole D. Whaley of Café Rue; morning tree and garden plantings by Casey Trees and Capital Area Food Bank; and a community center ribbon-cutting and dedication.
9:00 am-12:00 pm: Tree and garden plantings
9:15 am: 'Fresh Homegrown Flavors' Cooking Demo and Tasting
10:00 am: Community Center/ Food Pantry Ribbon-Cutting and preview
For event or general CPDC inquiries, media may contact:
Meghan Thornton, CPDC Marketing and Communications Manager
(202) 412-9962
mthornton(at)cpdc(dot)org
http://www.cpdc.org
About CPDC:
A premier developer of affordable housing in Washington, D.C., Maryland and Virginia, Community Preservation and Development Corporation (CPDC) works to develop vibrant communities through innovation and partnership. Specializing in the acquisition, redevelopment, and operation of affordable housing for low- and moderate-income individuals and families, CPDC owns over 4,500 dedicated affordable apartments within more than 25 communities, with resident engagement programs at many of its properties serving more than 9,000 residents.