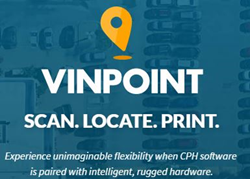 With VINpoint ILM you don't need to pay for something that is not moving
Fort Lauderdale, Florida (PRWEB) June 30, 2017
CP Handheld Technologies is making work easier for the growing number of auto dealerships in the United States. The leading retail automotive tech company has recently launched VINpoint ILM (Inventory Location Manager), an innovative solution that uses GPS encoded scans for real-time inventory location.
The new scanners transmit decoded VIN information and location, via a secure cellular network. This flexible device eliminates the dependency on traditional wifi/hardwired IT infrastructure.
The GPS encoded inventory is updated and displayed on Google Maps in the VINpoint ILM web or mobile apps. Subsequent scans record the current position of inventory so that personnel can track the location and flow of work as the vehicle is processed through its lifecycle. Automated label printing from the new scanner streamlines the vehicle check-in process, capturing vital information at the point of the vehicle rather than the back office. The new printing solution is also cellular-based, eliminating infrastructure dependencies.
"This is a major step forward for automotive retail," said Dan Perry, President of CPH. "The current trend to use OBD-II plug-and-play cellular devices for inventory location are extremely expensive, and the process is cumbersome at best. VINpoint ILM is a more economically viable, and pragmatic approach."
"With VINpoint ILM you don't need to pay for something that is not moving," said Perry. "Most of the time vehicle inventory lies dormant, and the plug-and-play devices just sit in the cars and drain battery life. VINpoint ILM, simplifies the scanning process and can be done daily by the porters. Just park it and scan it."
VINpoint ILM raises the bar in the automotive software industry. After the development of Active Inventory, software that provides a straightforward reconciliation process, this is yet another successful launch for CPH in the endeavor of making life easier for US auto dealers.
The company is already experiencing a surge of interest from its existing customer base. The integrated system now allows dealerships to manage exceptions, and ensure future reconciliations and audits can be handled without issues, which makes VINpoint ILM even more appealing to dealers. For the future, the company is focused on streamlining the automotive retail workflow through software solutions for dealerships around the country.
Those interested to learn more about CP Handheld Technologies, and specifically the new VINpoint ILM, can visit the company's official website and sign up for a quick demonstration. The 15-minute web demo will provide all necessary information about VINpoint ILM, the system's main benefits, the use of the software and its practical integration with the inventory process and the automotive retail workflow as a whole.
About CP Handheld Technologies
Founded in 2003, CP Handheld Technologies has quickly become one of the leading providers of innovative software solutions for the retail automotive industry. Focusing mainly on web-based reconciliation and advanced scanning solutions, the company now services more than 1200 dealerships throughout the United States, and continues to develop and expand.