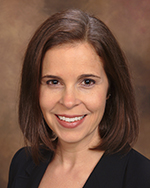 I was fortunate enough to take a leading role on our compliance team in the development of the Smart Compliance portal which has been instrumental in preparing many of our clients, as well as other BAN member clients, for a DOL audit.
Cleveland, Ohio (PRWEB) November 02, 2014
Meredith Eby Korner, Director of Benefits Consulting at CPI-HR, has been named one of the Most Influential Women in Benefit Advising by Employee Benefit Adviser magazine.
Employee Benefit Adviser selected only 20 women nationally for the prestigious recognition, based on their extraordinary contributions in the field of benefit advising and their accomplishments in elevating the status of other women in the profession.
"Being named one of the top women in benefit advising is a wonderful recognition of Meredith's accomplishments at CPI-HR and Benefit Advisors Network (BAN)," remarked Jim Hopkins, CEO of CPI-HR and BAN. "She excels at consulting with our clients in designing innovative plans that meet their benefit needs and ensuring that they are up-to-date on changing regulations and compliance obligations."
Korner's selection was also based on the instrumental role she played in helping to develop Smart Compliance, a web-based portal which helps employers attain and maintain health and welfare plans that are compliant with all laws and the new regulations imposed by the Affordable Care Act (ACA).
"Meredith's involvement in developing the Smart Compliance portal gave the team invaluable insight into the challenges many HR Departments face in meeting compliance obligations," says Peter J. Marathas, Esq., Compliance Director of the Benefit Advisors Network, an exclusive national network of independent employee benefit brokerage and consulting companies.
Korner regularly consults with clients, employers and other employee benefits agencies about compliance requirements, the impact of the Affordable Care Act, and the benefits of the Smart Compliance portal.
Employee Benefit Adviser is showcasing the success and influence of the industry's most prominent women in its October Issue.
# # About CPI-HR
Headquartered in Solon,Ohio, CPI-HR is a strategic partner and consultant in the areas of employee benefits consulting, payroll/HR services, and benefits administration, as well as innovative solutions to controlling benefit plans like group captives, split-funding, employee wellness and consumer education programs. CPI-HR partners with executives and HR departments to support the management of their most valuable asset…their people. CPI-HR, provides strategic and tactical solutions that help clients attract, retain and empower their workforce. Whether it's on a stand-alone basis or a more integrated employee benefit, payroll/HR, and benefits administration solution, CPI-HR ensures their services meet employers' goals and objectives.For more information about CPI-HR, visit http://www.cpihr.com.