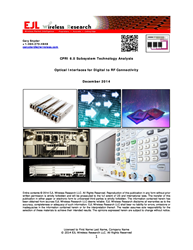 Simply put, CPRI™ is Fronthaul and Fronthaul is CPRI™
Salem, NH (PRWEB) December 30, 2014
EJL Wireless Research predicts the CPRI™ ecosystem will enter into a furious development phase in 2015 as next the generation of sRIO products become available. Simply put, CPRI™ is Fronthaul and Fronthaul is CPRI™, and only sRIO meets its requirements. The CPRI™ ecosystem entails silicon chips, test equipment including emulators, generators, protocol analyzers, LTE software, fiber optic modules, EDA tools and IP in the form of synthesizable core, verification IP, and system/chip emulators, and timing components.
"During the course of our extensive research into the specification and the entire CPRI™ ecosystem it spawned, we uncovered an incredible mix of interdependencies between application specific integrated circuits (ASICs), field programmable gate arrays (FPGAs), and other components that comprise a CPRI™ subsystem. Several important technology standards and interlinked component parts result in a tightly woven matrix that allows CPRI™ to scale-up to fully support LTE-A, -B, and 4.5G.
There are clear signs that some in the industry would like to alter CPRI™ defined Fronthaul so it can encapsulate CPRI™ as Ethernet payload to create all internet protocol (IP) Fronthaul CPRI™ over Ethernet (CoE) networks. While CapEx and OpEx may eventually cause a shift and migration towards Ethernet, we do not believe this will occur within the next five years, unless a CPRI™-specific-version of Ethernet evolves to fully meet CPRI™ requirements," says Principal Analyst, Cary Snyder.
"This report is the first of a series covering CPRI™ and CPRI™-related technologies that EJL Wireless Research will be publishing throughout 2015. I am very excited to have Cary on the team and focusing on this very important wireless topic," says Earl Lum, Founder and President.
The report is currently available for purchase, and information can be downloaded at: http://www.ejlwireless.com.
About EJL Wireless Research
EJL Wireless Research provides proprietary, accurate, and cutting-edge market analyses and consulting services on the wireless technology ecosystem and defense and aerospace industries. The firm's wireless infrastructure research division focuses on all vertical elements of the wireless ecosystem, including mobile subscribers, mobile operators, mobile handsets, mobile infrastructure, and mobile content. In addition, the firm provides analyses across horizontal technology suppliers including RF semiconductor materials, RF semiconductor/components, subsystems, and OEMs. Similarly, the defense and aerospace division focuses it efforts on the ecosystem supporting UAV and airborne platforms and subsystems. Our goal is to provide our clients with mission critical market analyses and information.
EJL Wireless Research believes it has a corporate responsibility, both local and international, in giving back to the community. Please visit our website for more information about the charitable organizations it supports at: http://www.ejlwireless.com/corporate_responsibility.html.
EJL Wireless Research is managed by Earl Lum. Mr. Lum has 20 years of experience within the wireless industry including eight years as an Equity Research Analyst on Wall Street, covering the global wireless industry. The company is headquartered in Salem, NH. For more information about EJL Wireless Research, please visit the company's websites at http://www.ejlwireless.com or http://www.ejldefense.com.
###