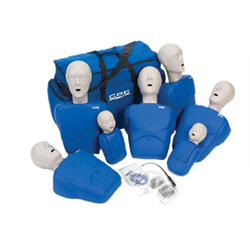 A perfect CPR kit for all your CPR training
Los Angeles, CA (PRWEB) October 29, 2014
Cardiopulmonary resuscitation or CPR is a training course that usually has to be recertified every couple of years. Many trainers are independently hired, but may also teach lifeguards together in a class for the most up-to-date and accurate training. During this class, CPR manikins are required to practice and become certified properly so students will know how much pressure to apply. Now the lifeguard supply company, Lifeguard Master, is offering a new line of CPR manikin kits including a new seven-piece manikin kit.
Any kind of trainer through appropriated programs will have to use some kind of CPR manikin during their training class. Because Lifeguard Master is committed to offering any and all lifeguard supplies to better serve their customer base, the company now carries this extensive seven-piece CPR manikin set that can be used throughout the certification process.
This CPR manikin kit contains five adult manikins, two infant manikins, 150 lung bags, and a carrying case. For organizations, companies, and freelance trainers, having a CPR manikin set is essential to the survival of a thorough training program. With both adult and infant manikins, students can be thoroughly trained for the most advanced and comprehensive certification. To find out more about the 7 piece manikin kit , please click on: visit product of CPR manikin kit.
The professional training manikins are designed to teach CPR and other lifesaving skills in a class. Students can each have their own manikin or be split up into smaller groups for a better training ratio for certification in CPR, AED use, or the Heimlich maneuver.
Since these manikins are of extremely high quality and made for multiple training classes, the manikins are designed to withstand the equivalent of 10,000 student usages. The soft-foam base is tough enough for multiple classes, but incredibly lightweight for easy portability.
These CPR dummies have realistic anatomical markings such as an Adam's apple, carotid arteries, navel, rib cage, and chest notch to make it easy for students to learn on manikins. By learning correct placement with these markings, students are more likely to perform successful lifesaving skills in the field or in an emergency.
The head of this manikin tilts and students can lift the chin to open the airway, which is a task required in CPR. The manikins also come equipped with an audible compression clicker to ensure students learn the proper technique. Instructors can hear if a student is compressing enough on the manikin to perform proper CPR and therefore ensuring proper certification.
The audible compression clicker also has a child setting that allows students to practice on children of a certain size, different than the infant manikin. Lung bags go into the manikin where students can see the chest rise when the airway is unrestricted and enough air is being given to the manikin.
The heads of the manikins are incredibly easy to clean and dishwasher safe, or can easily be sanitized with a wipe. These manikins are designed to meet the American Heart Association criteria for desirable manikin features meaning that these manikins can be used for CPR certification classes around the country.
These manikins are incredibly efficient, easy to use, and easy to carry making them ideal for any company, organization, or freelance trainer who is looking to certify with American Heart Association regulations. With the ability to train others in the Heimlich maneuver, CPR, and AED use, these manikins are great for students new to CPR and experienced.
The kit comes with a convenient carrying case with a shoulder strap and durable zippers for extremely easy transportation. Now lifeguards and others interested in becoming CPR certified can have an accurate and detailed certification experience with this seven-piece manikin set.
In addition to proper training with the kits, every first responder should also have ready on hand with them a good quality CPR pocket mask. This is essential for the first responder's protection as well as the victim's. With help in selecting a good mask for CPR, please click on: Tips in selecting a good CPR pocket mask.
Lifeguard Master has been in the emergency and life saving industry for many years. Sammy, the owner and founder of Lifeguard Master, has been a lifeguard himself for 7 years. He knows the importance of having all the equipment readily available for a first responder, and through the years Lifeguard Master has become a robust lifeguard supply and lifeguard store company, accommodating the anticipating needs of first responders around the country and around the world. Lifeguard Masters determination to excellence and rescue safety has quickly made it a leader in its industry. For more information, please give us a call, send us an e-mail or visit our website. Also to stay updated with the latest news in emergency supplies, please visit our forum where rescue professionals from around the country and world stay connect, and post the latest emergency news at LifeguardsOnline.com.
Sammy
Lifeguard Master
(714) 605-3090
http://LifeguardMaster.com