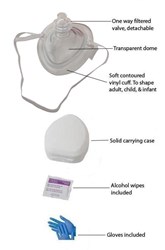 All in One Cpr Pocket Mask
San Diego, CA (PRWEB) November 20, 2013
A lifeguard's health and safety is important just like a swimmer's health and safety is important. For this reason, it is essential that lifeguards take precautions when it comes to administering CPR. The popular lifeguard supply and apparel store, Lifeguard Master, has updated their CPR Pocket Mask, an essential product for lifeguards everywhere.
The updated White Case CPR Pocket Mask kit includes a CPR Pocket Mast with oxygen inlet and head strap, a one way filter that is detachable and replaceable, alcohol wipes, medical gloves, and a hard white carrying case.
The white case CPR pocket mask includes several distinct features making this mask superior to others. This mask shapes easily to the face of an adult, child or infant due to the mask having a soft contoured vinyl cuff. The dome of the mask is also transparent allowing the rescuer to check the victim's mouth for lip color and any secretions. This mask is FDA approved and 510K approved allowing the rescuer to know that this is the right tool for them to use for emergencies. The ready to use kit prevents mouth-to-mouth contact with victims allowing the rescuer to ensure their health is safe. For more information on this, please go to: http://www.lifeguardmaster.com/cpr-pocket-face-masks-and-bvms
The CPR mask is approved to be used by the FDA in the United States and approved by Health Canada for Canadian use. The CPR mask is also CE approved to be used in Europe.
The mask comes ready to use with no assembling required. The valve and filter are intact awaiting use for an emergency. The mask has a leak-proof seal with a re-inflatable contoured soft vinyl cuff that shapes to the face of victims. The mask prevents mouth-to-mouth contact with a victim's face allowing the lifeguard to feel safe and able to do CPR correctly. To view a video on this, please go to: http://www.youtube.com/watch?v=xvJ1JE0ZgIk
"Awesome price on these pocket masks! I have paid double the price on other websites for the same quality product. The order arrived quickly and I had great customer service," says Becky in Middletown, Pennsylvania.
All masks from Lifeguard Master are delivered in five business days and are always fully stocked.
It is important for a CPR mask to be universal meaning that the mask can fit on a child, infant or adult. Getting a mask that can fit any type of victim is beneficial and practical for the emergency provider because it ensures all victims can be helped with CPR.
Another important feature in a CPR pocket mask is a filtered one-way valve that is both detachable and replaceable. The one-way valve allows air to only travel one way, protecting the emergency provider. The filter protects the victim as well and should be changed after every use of a real life situation.
Having a head strap on the CPR mask allows the mask to stay in place during an emergency situation and is easier for the rescuer to perform CPR.
The carrying case allows all the items to be in a central location and can hang easily on a wall or lifeguard chair so they can be grabbed easily if there is an emergency. The carrying case also allows the items to remain sterile in a closed case environment. For more information, please go to: http://www.lifeguardshirt.com/cprpocketmasks/
The CPR Pocket Mask Kits are some of the most inexpensive and high quality kits available on the market. The White Case CPR Pocket Mask is currently on sale. And is available for a deeper discount for bulk orders.To view the ebay listing of this mask, please go to: http://www.ebay.com/itm/CPR-POCKET-MASK-/131051555064?ssPageName=STRK:MESE:IT
Lifeguard Master has been in the emergency and lifeguard industry for many years. Sammy, the owner and founder of Lifeguard Master has been a lifeguard himself for 7 years. He knows what it takes to be an effective lifeguard and through the years has built a quality lifeguard store to accommodate for the anticipating needs of lifeguards around the country and around the world. Lifeguard Master's determination to excellence and water & rescue safety has quickly made it a leader in its industry. For more information, please give us a call, send us an e-mail or visit our website.
Sammy
Lifeguard Master
(714) 605-3090
http://LifeguardMaster.com