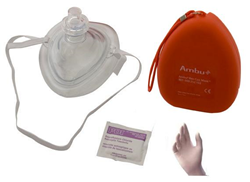 A perfect CPR mask for the first responder
Los Angeles, CA (PRWEB) December 09, 2014
Disaster can strike at any time, which is why it is so important for a first responder to pay attention to everything that is going on around her. CPR can be performed for different health reasons that a first responder or lifeguard may witness, whether someone stopped breathing due to drowning, heat exhaustion, or even a heart stopping when walking on the beach. Someone can need CPR at any moment, so for a lifeguard to be prepared when that moment comes is extremely important. Although CPR can be performed without a mask, it is unsanitary and uncomfortable since a lifeguard will have to put their mouth and hands on a stranger's nose, face, and mouth. Lifeguard Master, the popular lifeguard supply website, now has a new line of CPR masks that are not only compact, but also incredibly affordable.
The main CPR Pocket Mask comes in a hard, white carrying case along with gloves, alcohol wipes, a one-way filter that is detachable and replaceable, and of course a CPR Pocket Mask with oxygen inlet and head strap. This pocket mask is identical to the AMBU CPR Pocket Mask offered by Lifeguard Master and is made by the same manufacturer, but comes in a plain white case. The CPR mask shapes to fit an adult, child, or infant due to the soft contoured vinyl cuff. The mask is transparent allowing the rescuer to check the victim's mouth for lip color or secretions. Complete and ready to use, this mask and kit is FDA, Health Canada, CE, and 510K approved.
Now lifeguards can be ready in any kind of emergency. Lifeguards and other CPR certified rescuers can keep this by their work or watch station, in their car, in a backpack, at the office, or at home. Since an emergency can happen at any time, it is important for a rescuer to be prepared with a hygienic and sanitary mask and gloves. To view a video of this, please click on: Video of CPR pocket mask
The AMBU CPR Pocket Mask is identical to the white case CPR Pocket Mask with the exception of the case. Perfect for any professional and certified rescuer, this one-way valve mask can be used on an adult, child or infant due to the vinyl dome that conforms to any shape of face. The mask has a pre-inflated cuff for easy application making a quick and effective seal for the victim. The collapsible mask is easy to carry and compact making any professional ready for an emergency. This kit comes with a red case, AMBU CPR Pocket Mask, one-way valve, rubber gloves, and Vionex wipes that are OSHA approved.
Another popular item is the AMBU CPR Mask in a soft pouch that is similar to the AMBU CPR Pocket Mask in a hard red case. This kit comes with a soft red case that can be transported easily, an AMBU CPR Pocket Mask, a one-way valve, gloves, and wipes. By using this CPR Pocket Mask, rescuers and victims can have superior protection and durability to the first responder for a safe and hygienic CPR performance. The cloth red case features a clasp that can easily attach to a bag for quick access.
Another soft case is available with the AMBU CPR Mask in soft black case. The soft black case can fit into a bag, backpack, purse, messenger bag, suitcase, or gym bag. The kit has a ready to go AMBU CPR Pocket Mask, one-way valve, gloves, and wipes for fast access to perform CPR during an emergency. The contoured soft vinyl cuff shapes to an adult, child, or infant facial contours. The transparent dome lets the rescuer check the victim's mouth for lip color or secretions. This complete CPR Pocket Mask kit is complete with a sleek black case.
Lifeguard Master also offers replaceable one-way valve and filters or even key chain CPR masks for convenient and hygienic CPR performance at any moment.
Lifeguard Master has been in the emergency and life saving industry for many years. Sammy, the owner and founder of Lifeguard Master has been a lifeguard himself for 7 years. He knows the importance have having all the equipment readily available for a first responder, and through the years Lifeguard Master has become a robust lifeguard supply and lifeguard store company, accommodating the anticipating needs of first responders around the country and around the world. Lifeguard Masters determination to excellence and rescue safety has quickly made it a leader in its industry. For more information, please give us a call, send us an e-mail or visit our website. Also to stay updated with the latest news in emergency supplies, please visit our forum where rescue professionals from around the country and world stay connect, and post the latest emergency news at LifeguardsOnline.com.
Sammy
Lifeguard Master
(714) 605-3090
http://www.LifeguardMaster.com