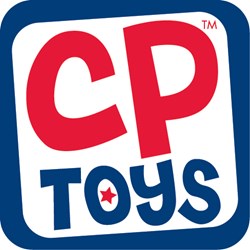 Grandview, MO (PRWEB) November 01, 2013
CP Toys - Halloween is officially over, which can only mean one thing; the winter holidays are about to be upon us. As the season ensues, one can be assured that shopping mall lines will be long and traffic will be fierce. Rather than spending hours waiting in line and taking years off of your life due to stress induction, consider doing all holiday shopping online this season. During the holiday season, CP Toys is offering free shipping on all orders over $69.99, and most items are out the door within one day of being ordered.
CP Toys, a Google Trusted Store, is featuring many wonderful items that are sure to make a kid smile this holiday season. Here is a small selection of some recommended toys for the young ones this year:
Train Table with Percy and Talking Thomas – All aboard for playtime fun! Bring the Island of Sodor home with this colorful train table with Percy & Talking Thomas. With durable wood construction and 100 pieces of wooden track and accessories, young engineers will delight in hours and hours of fun around this train table.
My Name Puzzle – It's all in a name and learning to spell it is fun when it's in puzzle form. This puzzle is a great way for children to increase sensory skills and learn to spell their name at the same time.
Rocket Ship Adventure – Orbit into new galaxies of imaginative play! This toy rocket ship has all a kid needs to start a space adventure. With 4 stories of fun and meticulously crafted of wood, this set includes astronauts, aliens, space vehicles and even a working elevator. Engage their imaginations with knobs and levers that turn and lift, perfect for enacting each mission.
Deluxe Wooden Builder – Colorfully painted and natural wood pieces are easily assembled with the easy turn nut and bolt design to allow for hundreds of building designs. Options are endless; use the included instructions for inspiration, or develop an all new creation.
Construction Site with Remote Control Crane – This construction site open and ready for constructive imaginative play! The remote control crane stands tall and turns 360° while the hook goes up and down and back and forth. The base also moves forward and reverse to go where the action is. The included dump truck, cement truck, and accessories add to the realistic play.
As Cozy As Home Play Kitchen – Little chefs can cook in their very own kitchen. This sturdy wooden kitchen comes with two pretend burners, turning knobs and cloth curtains above the sink and all the accessories. The all wood accessory pieces include dishes, silverware, pots and pans, toaster and blender complete with strawberries and bananas, a baking set with cupcakes and cookies and more.
There is no reason to get stressed this holiday season amidst the sea of anxious shoppers. Make all holiday gift purchases online through CP Toys to ensure a pleasing and calm holiday shopping experience.
About CP Toys
CP Toys by Constructive Playthings offers the finest toys to help a child grow by inspiring creativity, learning and family fun. From the nearly 60 year heritage of Constructive Playthings serving the early childhood education market, CP Toys was officially launched in 2011 to bring the same dedication to high quality educational play based learning to the home.
CP Toys is a branch of U.S. Toy Company.