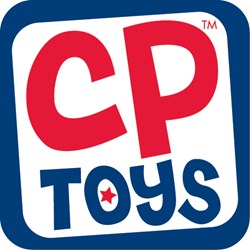 Grandview, MO (PRWEB) November 08, 2013
CP Toys - In this fast-paced, technological world, one can almost forget what life was like in previous generations. It was a simpler time: one without tablets and HD televisions. This year for the holidays, CP Toys wants to pay homage to those years and encourage shoppers to "disconnect" from the flashy technology available everywhere you go.
There is certainly nothing wrong with technology; in fact, CP Toys believes it should be embraced. However, there is just something special about using one's imagination and creating an entire new world rather than just watching one happen on a screen. To help shoppers get away from all of the "sights and sounds" of the 21st century, CP Toys wants to suggest a few gift alternatives this year:
On-A-Roll Art Center - Creativity starts rolling when paper and art supplies are always ready. This solid wood, easy-to-use paper dispenser features a safe, wooden cutting edge and includes a 200 ft. roll of paper. The included plastic carousel revolves to offer ton art supplies, consisting of pencils, crayons, watercolors, markers, kid safe scissors, and glue. This art set is sure to boost any child's creativity.
Little Labs Botany Science Kit – Just because it's winter doesn't mean your child can't plant his or her own garden. This science kit is perfect for any little botanist in the making! It includes a 48-page, full color guidebook outlining 30 experiments that aid children in learning about plants using a specially designed botanical laboratory with greenhouse domes. Comes with everything you need, including a greenhouse floor, dome, plant pots, measuring cups, soil pellets, seeds, pipettes, thermometer, and more.
Wooden Alphabet Floor Puzzle – Puzzles are a wonderful way to enhance children's hand-eye coordination and cognitive abilities. This puzzle also is a great asset in helping a child learn their alphabet. Every piece as a letter on it, as well as an object that starts with that letter.
Deluxe Wooden Builder – This 100 piece set includes colorfully painted natural wood pieces that are easily assembled with the "easy turn" nut and bolt design. Children can create hundreds of building designs by using the included idea booklet or creating new designs using their imagination.
This year when you're shopping, remember that there is no need to worry if "batteries aren't included." Instead, remember that "batteries aren't necessary."
About CP Toys
CP Toys by Constructive Playthings offers the finest toys to help a child grow by inspiring creativity, learning and family fun. From the nearly 60 year heritage of Constructive Playthings serving the early childhood education market, CP Toys was officially launched in 2011 to bring the same dedication to high quality educational play based learning to the home.
CP Toys is a branch of U.S. Toy Company.