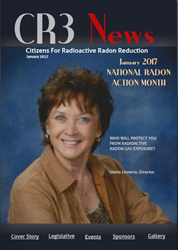 CR3 News will display Radon Awareness in a new format that will attract all types. News will be fresh and provide guidance to all stakeholder classes from Legislators to Homeowners
Waterloo, Illinois (PRWEB) January 17, 2017
The focus of the publication will highlight the importance of radon testing, professional mitigation, and the effectiveness of protective policies through local, state, and federal legislation. Additionally, it will promote advocates and their efforts to address the threats of radon and radon-related lung cancer.
The U.S. Environmental Protection Agency (EPA) has designated January as National Radon Action Month. The goal is to increase awareness of radon, promote radon testing and mitigation, and advance awareness of the use of radon-resistant new construction practices.
Citizens for Radioactive Radon Reduction (CRRR) has been a historically strong awareness advocate that participates and promotes on an ongoing basis.
"CR3 News will display Radon Awareness in a new format that will attract all types. News will be fresh and provide guidance to all stakeholder classes from Legislators to Homeowners", says Gloria Linnertz, President.
The first issue of CR3 News is available online now at https://joom.ag/itQW .
Contact Details:
Citizens for Radioactive Radon Reduction (CRRR)
618 Evansville Ave, Waterloo, IL 62298
Ph: 618-830-4660
Email: gloria(at)citizens4radonreduction(dot)org
http://www.citizens4radonreduction.org