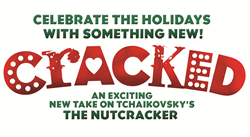 Cracked is suitable for all ages and is sure to become a holiday classic in its own right. -Jerome Vivona, artistic director
New Hyde Park, NY (PRWEB) November 20, 2015
Broadway Performers Michelle and Jerome Vivona are presenting a blockbuster production of "Cracked", an exciting new twist on Tchaikovsky's The Nutcracker.
Michelle and Jerome spent 20 years on Broadway performing in such shows as: Curtains, Thoroughly Modern Millie, Kiss Me, Kate, Seussical, How to Succeed..., Guys and Dolls, Anything Goes, Gypsy, and Sweet Charity. Michelle was also a Radio City Music Hall Rockette.
The Vivona's are the Directors of the American Theater Dance Workshop in New Hyde Park, offering training in Classical Ballet, Theater Dance, Musical Theater and Tap.
"We bring working professionals from the Broadway stage and Ballet companies to work with our musical theater and classical ballet students. We are thrilled with this opportunity to pass on to the next generation of dancers, all we have gained from our experiences on the stage as well as from the many amazing choreographers, directors, teachers, and fellow performers we have had the privilege of working with over the years," said Michelle Vivona.
Jerome, having performed in countless Nutcrackers throughout his ballet career with the Joffrey Ballet Concert Group, the New Jersey Ballet, Oakland Ballet and the Alberta Ballet, always envisioned taking the Nutcracker story further. "Cracked" is his new vision, a fresh new look at a classic tale. A sequel to the original Nutcracker story, set in NYC.
The Ballet will showcase 6 professional company dancers and 45 pre-professional dancers from the American Theater Dance Workshop and 4 dancers from the Long Island High School for the Arts all led by Director, Jerome Vivona and Choreographer, Kristen McGrew, the Artistic Director of the NOMAD Contemporary Ballet and whom is on the faculty at the Alvin Ailey School's Junior Division and Professional Performing Arts School. Ms. McGrew's work will be supplemented with further contributions by Adrienne Hurd and Michelle Vivona.
This all new cinematic story surrounds the coming of age of Kara, Clara's granddaughter, on the eve of her 16th birthday. It's Christmas Eve and we join Kara on an epic journey throughout NYC to the Land of Sweets. We'll meet new characters and renew our relationship with old favorites as this romantic and exciting story unfolds. How does it turn out? You'll have to join us and see...
American Theater Dance Workshop is pleased to present the second annual production of "Cracked." This is an exciting new twist on Tchaikovsky's The Nutcracker. Come celebrate the season with a new take on this holiday classic. Enjoy a performance featuring professional company dancers and a robust company of pre-professional dancers! Please join us for one of four exclusive performances of this family friendly production! There are also limited spaces available for premium functions including cast meet & greet, group and senior ticket packages and our special girl scouts Q&A with the ability to meet gold award winner, Kristen McGrew, and earn a badge.
American Theater Dance Workshop will perform excerpts from the ballet at the St. Aidan's – Festival of the Trees on Sunday, December 6th from 3:00-4:00pm in Williston Park, NY. A short thirty minute presentation will be followed by a meet and greet and the opportunity for individual interviews with the creative staff and dancers. Please RSVP your attendance at the Festival of Trees to Beverly DeVoe at 516-248-6420.
December 12th, 2015 at 2 pm & 7 pm
December 13th, 2015 at 12 pm & 5 pm
Herricks Community Center Theater
New Hyde Park, NY
Tickets Prices range from $25-$45. Group and Senior Ticket packages available.
For Group Tickets call: 516-248-6420
http://www.americantheaterdance.com ; http://www.crackedtheballet.com
Purchase tickets here: https://tickets.shovation.com/eventperformances.asp?evt=202