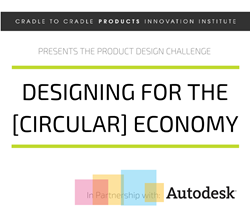 We are celebrating a new vision—giving product designers the chance to be rewarded for applying their skills to innovative circular thinking.
SAN FRANCISCO (PRWEB) February 03, 2015
The Cradle to Cradle Products Innovation Institute and Autodesk, a world leader in 3D design software, have teamed up to offer product designers a chance to win up to USD $4,000 through the inaugural Cradle to Cradle Product Design Challenge. Participants are eligible to submit their design after completing the free 1-hour, online course Designing Cradle to Cradle Certified™ Products for the Circular Economy. Submissions are due March 15, 2015, and winners will be announced in April.
The required online education course provides practical instruction for product designers in the application of 'cradle to cradle' design principles, and the goal of the Product Design Challenge is to eliminate the concept of 'waste' by designing products with materials that may be perpetually cycled to retain their value as nutrients to fuel growing global economies.
"We are celebrating a new vision—giving product designers the chance to be rewarded for applying their skills to innovative circular thinking," said Bridgett Luther, president of the Institute. "The design revolution starts with the designers, and we are delighted to have Autodesk join us in helping to jumpstart this next phase of design with materials and products that are continuously cycled."
A cash prize of USD $2,000 will be awarded in each of the three categories: Student (currently enrolled in a higher education program); Professional (working in the design profession); and use of the Autodesk Fusion 360 tool. Autodesk Fusion 360 is an integrated 3D Computer-Aided Design (CAD)/Computer-Aided Manufacturing (CAM) tool for product development, merging industrial design, mechanical engineering, and manufacturing with the benefit of cloud collaboration. If the Autodesk Fusion 360 tool is used, the judges could declare a participant winner in two categories, awarding the victor USD $4,000.
"In support of the design-led revolution, Autodesk is thrilled to partner with the Cradle to Cradle Products Innovation Institute in this Product Design Challenge," said Lynelle Cameron, Autodesk sustainability sr. director and CEO and president of the Autodesk Foundation. "We hope the Challenge will inspire designers to learn more about designing for the circular economy and empower them to use design to tackle today's epic challenges."
The judges of the challenge bring a range of expertise in innovative design. Debera Johnson, executive director of Pratt Center for Sustainable Design, founded the Pratt Design Incubator for Sustainable Innovation and under her leadership, has helped launch 25 design-driven enterprises. Chair of the 50th Anniversary Conference of Industrial Designers Society of America (IDSA), Surya Vanka, is a designer, corporate leader, educator, and author who has worked at the leading edge of designing physical and digital experiences for over 25 years. Aly Khalifa is a design innovation expert whose collaborations have garnered 23 patents, been nominated for a Grammy Award, and exhibited in the Louvre. Alex Lobos is an assistant professor of Industrial Design, Miller Professor for International Education, and extended program faculty at Golisano Institute for Sustainability at Rochester Institute of Technology, New York.
The circular economy refers to a methodology for industrial design that contributes to ecological restoration through the elimination of waste and the utilization of renewable energy. The principle goals of the circular economy are to maximize value from materials and resources and then regenerate products. The circular economy represents a $340 billion savings opportunity for businesses according to a report by the Ellen MacArthur Foundation, who's work is based on Cradle to Cradle® design philosophy.
Entries will be evaluated on: design considerations that promote circularity; anticipated next life of the materials; identified path to reuse; choice of materials (non-toxic and cyclable); usefulness; and beauty. For full submission requirements and official rules, please visit C2CCertified.org/Challenge.
Designs may be submitted immediately following completion of the course, and must be received no later than March 15, 2015. To learn more about the circular economy and Cradle to Cradle Certified products, visit C2CCertified.org. For questions, please contact info(at)c2ccertified(dot)org.
###
About Cradle to Cradle Products Innovation Institute
The Cradle to Cradle Products Innovation Institute is a non-profit organization whose mission is to turn the making of things into a positive force for people, the economy, and the planet. They steward the Cradle to Cradle Certified Product Program, which is a system for assessing and constantly improving products based upon five categories: material health, material reuse, renewable energy, water stewardship, and social fairness. The Institute is headquartered in San Francisco, California, with satellite offices in Amsterdam, NL, Venlo, NL and Raleigh, NC.
Cradle to Cradle® is a registered trademark that is owned and licensed by MBDC.
Cradle to Cradle Certified™ is a certification mark licensed by the Cradle to Cradle Products Innovation Institute.