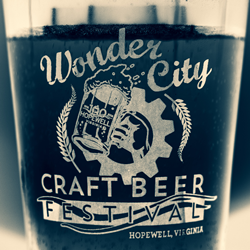 The Wonder City Craft Beer Festival attracts thousands of visitors to Hopewell each spring to sample some of the region's most notable craft beers
HOPEWELL, Va. (PRWEB) March 26, 2019
The Fourth Annual Wonder City Craft Beer Festival on Saturday, April 20, will kick off "50 Days of Love" in Hopewell, Virginia. The "50 Days of Love" campaign is part of Virginia's celebration of the 50th anniversary of the "Virginia is for Lovers" brand, which was launched in 1969.
The craft beer festival will take place from noon to 6 p.m. in downtown, 403 Appomattox Street, overlooking the scenic Appomattox River.
"The Wonder City Craft Beer Festival attracts thousands of visitors to Hopewell each spring to sample some of the region's most notable craft beers," says Aaron Reidmiller, Hopewell's director of recreation and parks. "The event is one of the City's signature events held in historic downtown Hopewell."
Twenty-seven local partners, including the Hopewell/Prince George Chamber of Commerce, will participate in the "50 Days of Love" campaign. The Boathouse restaurant is offering a new hors d'oeuvre featuring Boathouse oysters roasted with Edwards Smoked Surry Sausage and Patrick Henry Cornbread available at all meals for $19.69. On Mondays from 1-2 pm the Quick Lunch will offer a 50 cent "all the way" hot dog. Luca Restaurant in nearby Prince George is offering an appetizer, small heart shaped pizza, and any dessert for $19.69.
The festival is free and open to all ages. Food trucks, live music, and children's activities will be available throughout the day. More than 30 craft beer makers will participate in the event. Popular breweries featured will include Bold Rock, Center of the Universe, Legend, Midnight, Steam Bell, Starr Hill, Hardywood, Devils Backbone, Trapezium, and Stone. Music will be provided by Magnolia and RVA Growlers.
To sample craft beers, taster tickets will be available for sale the day of the event. Each ticket will be $2 for a 5 oz. beer sample. Some specialty beers may require two tickets for a 5 oz. sample.
Outside food and drink are prohibited. Visitors may bring a chair but you must leave the umbrellas at home. The event is open to persons of all ages but only individuals ages 21 and above will be permitted to purchase sample tickets.
Free parking is available surrounding the event area. A combination of public parking lots and street parking offer ample opportunities to get close to the event entrance.
BACKGROUND OF "WONDER CITY'
Hopewell received its "Wonder City" moniker during World War I, when Hopewell became a boom town. The DuPont plant located here at the time produced guncotton, an explosive nitrate product used extensively in smokeless gun powder. At its peak, Hopewell's DuPont Plant was producing 1.5 million pounds of guncotton per day and produced nearly 1.16 billion pounds of guncotton during its lifetime, according to The History of Manufacture of Explosives for the World War 1917-1918. At its peak the plant employed 28,850 persons.
Also, with the American entry into World War I, Camp Lee was established on 8,900 acres in Prince George County. At the end of the war, Camp Lee was closed; the DuPont plant closed and the area's boom ended. The city's population declined from a war-time high of 30,000 to just 1,320 in 1920. Hopewell has been rebuilding since that time. Camp Lee came back with the start of World War II in Europe and the U.S. Selective Service Act.
"Manufacturing was the reason for the incorporation of Hopewell in July of 1916 and Hopewell is still a manufacturing city today," says Becky McDonough, CEO of the Hopewell/Prince George Chamber of Commerce, one of the partners in the "50 Days of Love" event. "The owners have changed but the products are familiar. If you enjoy the benefits of carpet, personal care products, biodegradable packaging, diapers, recycled metal, dry ice, energy, fertilizer…then you understand the importance of Hopewell to modern day life."
Those planning a visit to Hopewell for the craft beer fest or for other spring activities should contact the Hopewell/Prince Chamber Visitor Center or call 800-863-8687.
Favorite activities for visitors coming to Hopewell include a walking tour of City Point, concerts by the rivers or in the historic Beacon Theatre, picnics, parades, wine-tastings, a view into plantation life, paddling a kayak, sampling locally-made chocolates, seeing a movie for $7.50, attending fitness classes, 5k races, street fests, buying fresh produce at the farmers' market and more.
Additional information on the beer fest is available at http://www.wondercitybeerfest.com.