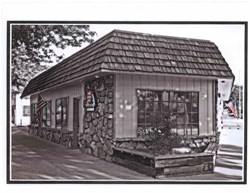 Fort Collins, CO (PRWEB) January 23, 2014
Fort Collins at 150: A Sesquicentennial History, authored by Wayne Sundberg has been commissioned by Visit Fort Collins, in cooperation with the Fort Collins Area Chamber of Commerce and the City of Fort Collins to commemorate the 150th anniversary of the founding of Fort Collins. The book will be available to purchase later this summer at the Fort Collins Visitors Center and in local bookstores. It will also be made available to the Fort Collins Chamber of Commerce, City of Fort Collins, Colorado State University, and the Poudre School District along with the public libraries.
Craig Campbell Insurance Agency - Farmers Insurance is thrilled to be given the opportunity to share his story and the success and growth of his business in this commemorative book about Fort Collins. Craig Campbell's father-in-law, Eugene Benedict, along with two others constructed the Old Town Fort Collins building on Mountain Avenue in 1973. In 1990, Craig opened his Farmers Insurance Agency in the same building where Eugene Benedict continued to reside as the sole building owner and as planned, the two became partners, until Eugene retired in 2001, selling his insurance agency into a single agency, Craig Campbell Insurance Agency. Nearly twenty-five years later, Craig's agency still resides at the same first floor location as the original building. To learn more about the history of Craig's agency and the rich history of the area from the Native Americans and the First Settlers to the twenty-first century community calling Fort Collins home, look this summer for Fort Collins at 150: A Sesquicentennial History.
For a free insurance quote or for more information about Craig Campbell Insurance Agency, please call 970-484-1400 or visit http://www.farmersagent.com/ccampbell1.
About Craig Campbell Insurance Agency - Farmers Insurance
This is a locally owned and operated Farmers Insurance Agency proudly serving the Fort Collins community for over 23 years. The auto, home, life, and business policies are expertly tailored to customer's individual needs.
About NALA™
The NALA is a full service marketing agency for local business owners offering new online advertising and small business marketing tools, great business benefits, education and money-saving programs, as well as a charity program.
PR Contact: Tiffani Tendell
ttendell(at)thenala(dot)com
805.650.6121, ext. 361