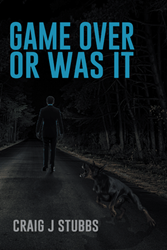 Sydney (PRWEB) March 29, 2014
In 2005, Craig J. Stubbs became CEO of Fincorp – an Australian property and investment company. In 2007, the company collapsed while still owing investors over 200 million dollars. Stubbs tells his story – one of court cases, betrayal, whistle-blowing and health complications – in his new book, "Game Over or Was It" (published by AuthorHouse UK).
Stubbs begins his book by describing his initial experience working at Fincorp. While the company was initially seeking a director of investing and lending, they offered him the CEO position. Stubbs describes his skepticism and how he insisted on seeing the company's operations and plans before considering the job. Satisfied with what he saw, he accepted the position and began his journey as CEO in June, 2005.
Less than two years later, Stubbs' health gave in, resulting in a severe case of depression and orders from the doctor to leave his post as director and CEO. Only months after this, Fincorp was in shambles, owing over 8,000 investors an estimated 200 million dollars. Stubbs was left to answer for the company's downfall, which landed him in the middle of numerous court hearings as well as under media fire.
"Game Over or Was It" chronicles Stubbs' struggle to get the truth out regarding the Fincorp fraud, as well as his battle with severe and crippling depression.
Stubbs hopes his book will not only enlighten readers to the truth regarding Fincorp's downfall and the eight-billion dollar debenture industry, but serve as a warning that what happened to him, can happen to anyone.
"Game Over or Was It"
By Craig J. Stubbs
Hardcover | 6 x 9 in | 262 pages | ISBN 9781491895122
Softcover | 6 x 9 in | 262 pages | ISBN 9781491895139
E-Book | ISBN 9781491895146
Available at Amazon and Barnes & Noble
About the Author
Craig J. Stubbs lives in Sydney. He has 30 years of experience as a senior executive in numerous fields including financial services, wealth management and financial markets. He is married and has three adult children. In his free time, he enjoys mentoring people on business and cricket, playing golf, and spending time with family and friends. "Game Over or Was It" is Stubbs' first published book.
AuthorHouse UK Ltd., an Author Solutions, LLC self-publishing imprint, is a leading provider of self-publishing, marketing and bookselling services dedicated to serving authors throughout the United Kingdom. AuthorHouse UK is committed to providing authors the best self-publishing experience through a wide array of products and services designed to help individual authors realise their unique creative vision. AuthorHouse UK assigns each author a personal publishing, marketing, and book consultant to provide professional guidance throughout the self-publishing process. To date, AuthorHouse UK has released more than 6,500 titles. For more information or to begin publishing a book today, visit authorhouse.co.uk or call 0800 1974150 or follow @AuthorHouseUK on Twitter for our latest news and updates.