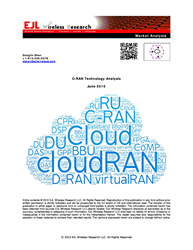 C-RAN should not be considered as a generic RAN architecture for the evolution of future mobile networks
Salem, NH (PRWEB) June 30, 2015
A centralized radio access network (C-RAN) architecture for mobile networks is not ready yet for mainstream adoption, according to the latest report from EJL Wireless Research titled "C-RAN Technology Analysis." "This report is focused on the technical and economic feasibility of migrating today's distributed RAN (D-RAN) architecture to C-RAN," says founder and President, Earl Lum. "As a reinvention and evolution of the baseband unit (BBU) hotel architecture, the concept of C-RAN has received much attention within the mobile communication industry due to the claims of CAPEX and OPEX savings. C-RAN is a valid network architecture for dense urban/metro environments where an abundance of optical fiber resources are available. C-RAN should not be considered as a generic RAN architecture for the evolution of future mobile networks," says author and Principal Analyst, Donglin Shen.
The report discusses the evolution of the base station from an integrated unit to the current distributed architecture (D-RAN) to future evolutionary forms of D-RAN including BBU hotels, Cloud RAN and Virtual RAN. The common public radio interface (CPRI) is the critical real time link that prevents data traffic between the BBU and RRU to be transported using other methods including Ethernet. The industry has tried to partition the BBU+RRU architecture to lessen the requirements for the fronthaul link with no success. CPRI is here to stay until a new solution has been defined and proven.
The report provides a unique perspective on critical issues that the mobile industry faces in migrating to a C-RAN, Cloud RAN or Virtual RAN architecture.
The report is currently available for purchase and information can be downloaded at http://www.ejlwireless.com.
About EJL Wireless Research LLC
EJL Wireless Research LLC provides proprietary, accurate and cutting-edge market analysis and consulting services on the wireless technology ecosystem and defense and aerospace industries. The firm's wireless infrastructure research division focuses on all vertical elements of the wireless ecosystem including mobile subscribers, mobile operators, mobile handsets, mobile infrastructure and mobile content. In addition, the firm provides analysis across horizontal technology suppliers including RF semiconductor materials, RF semiconductor/components, subsystems and OEMs. Similarly, the defense and aerospace division focuses its efforts on the ecosystem supporting UAV and airborne platforms and subsystems. Our goal is to provide our clients with mission critical market analysis and information.
EJL Wireless Research LLC believes it has a corporate responsibility, both local and international, in giving back to the community. Please visit our website for more information about the charitable organizations it supports at: http://www.ejlwireless.com/corporate_responsibility.html.
EJL Wireless Research LLC is managed by Earl Lum. Mr. Lum has 20+ years of experience within the wireless industry including 8 years as an Equity Research Analyst on Wall Street covering the global wireless industry. The company is headquartered in Salem, NH. For more information about EJL Wireless Research, please visit the company's websites at http://www.ejlwireless.com, http://www.ejldefense.com or our weblog at http://ejlwireless.wordpress.com.