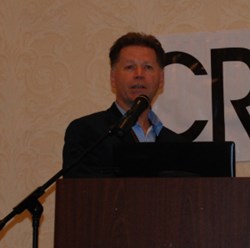 We want to hear from those on the ground doing the work.
(PRWEB) September 05, 2013
The third Crane & Rigging Conference (CRC) Canada takes place Oct. 22-23, 2013 at the Edmonton Marriott at River Cree Resort, Edmonton, Alberta.
Canadian Hoisting & Rigging Safety Council (CHRSC) will urge attendees to join forces and wake the country from its rigging nightmare at this year's event.
The CHRSC made its first public appearance at CRC Canada 2012, but the group has since become a government-recognized, independent, industry-represented group. Over that time, the lifting industry has reinforced its message that there are major issues with regards to rigging equipment and the way it is used, particularly when moving from one jurisdiction to the next.
Fraser Cocks, the council's chairman, said: "Everywhere I travel it is the issue where everyone wants more information and detail." He called it a "major initiative" of the council moving forward.
"I've had a lot of conversations that started the same way. People are looking for standards and frameworks to start from and what they find is either different to what they found elsewhere or it's nowhere to be found, especially when they are presented with a set of circumstances new to them. We want to provide consistency—state by state or province by province."
Online Rigging Committee
The CHRSC will invite CRC Canada attendees to provide input to an online-based rigging committee, where information will be gathered and fed back. "We're not only looking to feedback regulatory information but work towards better industry practices as a result of what we will find," said Cocks.
He stressed that the committee will be focused on gathering information from users in the field. "We're not asking people to give up their time, travel and sit in a meeting room, which is a scenario that usually results in the wrong people coming to the table," he said. "We want to hear from those on the ground doing the work."
Cocks anticipates a "dialogue with industry." "It will be live work with no reports. We'll have milestones but the work itself won't come to an end," he added.
The Crane & Rigging Conference will feature a presentation by Peter Cooke, rigging training manager, Columbus McKinnon Corporation entitled Rigging with Lever Tools. Cook will discuss how lever tools can be used as a hoist or in a leg of a chain sling as a compensator. Attendees will also learn how to do a pre-operational inspection and how to properly use these hoists safely. Additionally, Cooke will walk discuss a case study on sizing a lever hoist as a compensator.
Register for this event prior to September 20, 2013 to receive the early bird at: http://www.CraneandRiggingConference.com/CRC-Canada/registration/.
About Maximum Capacity Media
Maximum Capacity Media is publisher of Crane & Rigging Hot Line, Lift and Access, Industrial Lift & Hoist, and Lift & Hoist International. It also produces SAF-T, Crane & Rigging Conference, Lift and Access Showcase & Symposium, The Crane Operator Rodeo, and other industry events.