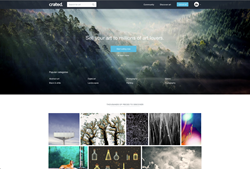 "We focus on taking care of curating, marketing and all aspects of fulfillment so that artists can focus on what they do best, creating amazing art." -Adrian Salamunovic, Crated co-founder
New York, NY (PRWEB) April 29, 2014
Today, new online marketplace for digital artists and photographers, Crated (http://www.crated.com), opens its community to artists. Crated is an end-to-end online platform for digital artists and photographers to easily display, promote and sell their art pieces around the world.
Unlike other art selling sites, Crated provides a turnkey solution for artists providing not only display and sales features, but also high quality production, marketing and fulfillment functionality with the highest profit sharing available. Crated's artists receive support from start to finish and a generous revenue share of 80% of generated profits. Setting up a gallery is free, no credit card is needed and the site does not charge any transaction fees.
In celebration of the launch, the first hundred artists to join by May 16 will have the opportunity to be featured in Crated's first pop-up gallery in Soho ArtHouse, New York opening May 21 (http://www.crated.com/nyc). Also, to help launch this innovative, artist marketplace, well known designer Karim Rashid, artist duo devNgosha and renowned photographer and designer Dan Rubin will be among the first sellers, featuring art pieces exclusively seen and sold on Crated.
"Major challenges for artists are primarily exposure and distribution," says, Adrian Salamunovic, co-founder of Crated. "We focus on taking care of curating, marketing and all aspects of fulfillment so that artists can focus on what they do best, creating amazing art. In addition, we focus on quality over quantity to ensure that their work doesn't get buried on the site."
Crated's technically rich promotions, sales and distribution platform provides everything needed to drive exposure and sales for artists. Here's how:
GALLERY: Artists easily upload images to create a personal online art gallery, with a storefront look-and-feel. With just a few clicks, images can be imported directly from any computer, mobile device, Flickr and Instagram.
CURATION: The artwork is heavily curated to ensure it reflects the high standards of Crated's community of artists.
COLLECTIONS: Artists are encouraged to display exclusive collections to be seen and sold exclusively on Crated.
COMMUNITY: Far more than just a marketplace Crated connects art fans with artists and allows them to interact in one place.
MARKETING ENGINE: With Crated's extensive marketing support and online features, artists will gain easy access to thousands of potential consumers. This includes integrated marketing tools for driving social engagement; SEO optimized platform as well as access to a personal curator that assists artists to get the most out of their gallery.
PRINTING FACILITIES: With Crated's in-house printing facilities, each purchased piece of work is turned into quality art pieces with the use of industry-best materials, inks and archival processes. Every piece is inspected and made by hand.
FULFILLMENT SERVICE: Crated owns and operates their own printing and fulfillment facilities so nothing is outsourced. Artists have access to a secure platform to sell artwork 24/7 without worrying about printing and shipping. Artists living anywhere in the world can sell their work on Crated with delivery access across North America and Europe.
CUSTOMER SERVICE: World-class service to ensure 100% customer satisfaction.
SOCIAL NETWORK: Artists are provided access to Crated's social media optimized engines including an SEO and user-friendly dashboard to provide necessary analytics, including visitor tracking, and other online metrics.
Adrian adds, "We have over a decade of extensive experience in the areas of art marketing, printing and e-commerce, selling millions of dollars worth of art around the world as founders and operators of CanvasPop and DNA11. Now, we want to help independent artists do the same on Crated's platform."
At no cost, sign up now at http://www.crated.com, upload your images and in just a few minutes you can have a free online gallery with ready to support sales, production and distribution.
More About Crated
Crated (http://www.crated.com) is the leading online art marketplace offering a true end-to-end platform for independent creative artists and photographers to sell art and connect with millions of art lovers. More than an art gallery, Crated is an easy and convenient, online platform that provides a turnkey destination for artists to display, promote, print and distribute their work across North America and Europe from anywhere. For art lovers, it's a place to discover, connect and purchase art from artists around the world. Crated was created by the co-founders of the original DNA art company, DNA 11 and CanvasPop, who have sold thousands of art pieces globally for over a decade. For more information visit http://www.crated.com.
More About Crated Artists
Karim Rashid: Karim is one of the most influential designers of his generation, with over 3000 designs in production and 300 awards. His designs, featured in 20 permanent gallery collections worldwide, include work for Veuve Cliquot, UMBRA, Kenzo, Hugo Boss, CitiBank, Samsung and more. Visit http://www.karimrashid.com
Dan Rubin: Rubin known for his brilliant photography and digital design is now London-based and founder/creative director of Webgraph, an American multi-disciplinary studio. He appears as a guest lecturer at various art and design conferences worldwide and continues to produce photographs and design work for select clients. Visit http://www.danrubin.is
devNgosha: devNgosha is a Los Angeles-based fine art collaborative fronted by Devin Liston and Gosha Levochikin. They are mixed media artists whose works have been featured in galleries across America and appeared as murals on the streets of Los Angeles. Visit http://www.devngosha.com