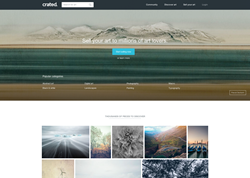 "The times of buying or selling art only from an elite gallery are history and Crated makes it easier than ever to collect and buy art from the comfort of your own home." -Stephen Smith, Head Curator, Crated.com
New York, NY (PRWEB) May 20, 2014
New online art marketplace, Crated (http://www.crated.com) launches today, bringing anyone who loves art a unique, accessible and interactive place to discover, collect and buy high quality art created by global digital artists and photographers. Crated is a site that enables people to become their own curator by easily exploring and selecting their favorite art pieces from thousands of collections. Visitors can browse high quality online art galleries that have been handpicked by Crated's curators for free, and select their favorites that can be purchased and shared.
To mark the launch, Crated will be displaying over 500 curated art pieces in their first pop-up gallery at the Soho Art House from May 20-21, with special guest, renowned designer Karim Rashid.
Until today, Crated had operated in private, invitation-only beta mode, conducting targeted outreach to digital artists and photographers. The reception has been overwhelming from the art communities with thousands of artists joining and uploading tens of thousands of images for the opportunity to sell their creations on Crated.
For digital artists and photographers, the site is an end-to-end online platform that makes it easy to display, promote and sell art. Unlike other art selling sites, Crated provides a turnkey solution for artists providing not only display and sales features, but also high quality production, marketing and fulfillment functionality with the highest profit sharing available.
"We are striving to create the best user experience from beginning to end for both artists and art lovers," says Crated's co-founder Adrian Salamunvoic who is also co-founder of art companies DNA 11 and CanvasPop. "The online art world has been fairly stagnant over the last few years and we feel like we can positively disrupt the way art fans connect with artists and art that they love."
Crated.com visitors can now browse through online galleries (including exclusive selections), discover emerging and established talents and purchase their favorites. Well-known artists include designer Karim Rashid, artist duo DevNGosha and photographer Dan Rubin who have created collections exclusively for Crated.
"We've been thrilled with artists' response in our pre-launch phase and excited to finally share thousands of art works with art fans everywhere," says Stephen Smith, Head Curator, Crated.com. "The times of buying or selling art only from an elite gallery are history and Crated makes it easier than ever to collect and buy art from the comfort of your own home."
Opened May 20-21, Crated's first pop-up gallery is located at SoHo Art House, New York City with a kick off gallery event taking place Wednesday May 21, 7:00pm - 10:00pm. Visitors will get a first look at photography, digital art and paintings featured on Crated.com including exclusive art from Karim Rashid, DevNGosha and Dan Rubin. Artwork is available to purchase with 10% of proceeds from sales donated to NY based charity, The Adventure Project: http://theadventureproject.org. For more information about the pop-up gallery visit http://www.crated.com/nyc.
About Crated
Crated is the leading online art marketplace offering a true end-to-end platform for independent creative artists and photographers to sell art and connect with millions of art lovers. More than an art gallery, Crated is an easy and convenient online platform that provides a turnkey destination for artists to display, promote, print and distribute their work across North America and Europe from anywhere in the world. For art lovers, it's a place to discover, connect, collect and purchase art from artists around the world. Crated was created by the co-founders of the original DNA art company, DNA 11 and CanvasPop, who have sold thousands of art pieces globally for over a decade. For more information visit http://www.crated.com.
More About Karim Rashid
Karim Rashid: Karim is one of the most influential designers of his generation, with over 3000 designs in production and 300 awards. His designs, featured in 20 permanent gallery collections worldwide, include work for Veuve Cliquot, UMBRA, Kenzo, Hugo Boss, CitiBank, Samsung and more. Visit http://www.karimrashid.com
About Internet Week New York
Launched in 2008 in cooperation with the New York Mayor's Office of Media and Entertainment, Internet Week New York is a week-long festival celebrating Internet business and culture. In 2013, more than 45,000 people attended nearly 400 events throughout the city. For more information visit, https://www.internetweekny.com/