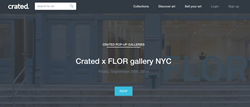 "We can turn any location or retail space into an art gallery." -Crated Co-founder, Adrian Salamunovic
New York, NY (PRWEB) September 26, 2014
Today Crated.com unveiled a plan to disrupt the art world by making affordable art accessible to the masses while supporting local retail venues and charities.
The Crated Venues platform connects brick-and-mortar retail locations with artists and charities in their own community in order to fill empty wall space. This move supports Crated's mandate to bring digital art and photography back to the physical world.
Launched in 2014, Crated is a fast-growing online art marketplace connecting digital artists and photographers around the world with art buyers.
Off to a bold start, Crated Venues is launching in partnership with Flor, an innovative and creative retail company known for their inspired carpet square designs. Flor is participating with 21 premium retail locations including New York, Los Angeles, Miami and Toronto.
The program aims to take advantage of otherwise empty wall space while creating revenue and attracting traffic to retail partners. Retailers benefit from the unique opportunity to refresh their decor while supporting local artists, who in turn gain access to suitable venues with a constant flow of traffic. Retailers also receive a percentage of art sales. Crated has identified a unique market of educated, affluent shoppers looking for art; a demographic that represents the kind of foot traffic retailers are keen to attract.
"Basically, we can turn any location or retail space into an art gallery," says Crated co-founder, Adrian Salamunovic. "There are literally millions of square feet of empty wall space sitting in premium locations around the world, and our goal is to help fill those walls with beautiful art."
Crated Venues capitalizes on the social, local, mobile movement (SoLoMo), which supports the seamless social commerce experience that consumers now demand. Art fans will be able to see and interact with art and events in their geographic area giving art lovers access to exclusive events where they can see art up close and connect with fellow art lovers.
"We help artists gain exposure and make money while driving traffic to our retail venue partners, says Crated co-founder, Nazim Ahmed. "Everyone wins."
How it works:
1. Artists and retail partners can send an inquiry to community(at)crated(dot)com to indicate their interest in hosting a Crated Venues event.
2. Crated matches the right venues with the right artists based on geographic location and brand fit.
3. Crated generates an Evite-integrated feature page then prints and ships the art to the venue at special wholesale pricing. Crated then works with the artists to promote the local event.
About Crated
Crated is the leading online art marketplace offering a true end-to-end platform for independent creative artists and photographers to sell art and connect with millions of art lovers. More than an art gallery, Crated is an easy and convenient, online platform that provides a turnkey destination for artists to display, promote, print and distribute their work across North America and Europe from anywhere. For art lovers, it's a place to discover, connect and purchase art from artists around the world. Crated was created by the co-founders of the original DNA art company, DNA 11 and CanvasPop, who have sold thousands of art pieces globally for over a decade. For more information, visit crated.com.