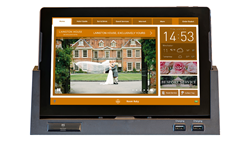 "We've seen how integral to the luxury guest experience, and how important to the revenue stream, Crave's technology has become at the three other hotel properties in the group, so we knew that we needed to follow suit," he said.
Winchester, England (PRWEB UK) 6 June 2016
Lainston House in Winchester, part of the Exclusive Hotels and Venues group, is set to feature Crave's state-of-the-art T2 Tablet in each of its 50 guest rooms. Housed in a converted 17th-century manor house and surrounded by 63 acres of parkland, Lainston is the fourth property in the Exclusive portfolio to install Crave's cutting-edge in-room technology. The company's tablets also feature in all rooms at South Lodge in Sussex, Pennyhill Park in Surrey and the Manor House in Wiltshire.
"Crave's tablets are now a standard feature across all four Exclusive Hotels and Venues hotel properties, which is a testament to how central this kind of technology has now become in the luxury hotel sector," said Chief Commercial Officer Tim Butterworth.
Crave's tablets, which are powered by the company's unique, cloud-based operating system, Crave OS, allow hotels to do away entirely with outdated printed room service menus and guest directories, replacing them with instant digital ordering, and limitless listings which can be remotely updated or modified at any time. The tablets can also include a wide suite of additional features, including instant spa, restaurant and activity booking, direct contact with concierge, news, travel information and gaming, and more besides. The tablets also allow for personalised push-messaging and tailored home-screen advertising. Hotels across the world report marked upswings in on-site revenue generation after installing Crave's tablets.
In recent months the company – which is headquartered in Milton Keynes, with a development centre in the Netherlands – has been making waves on the global hospitality circuit, with a rush of major international signings. Its tablets now feature in the massive Aria Resort & Casino in Las Vegas, one of the world's largest hotels, and are being rolled out throughout the expanding Caribbean collection of AMResorts.
According to Crave Founder and CEO, Gareth Hughes, the rapid expansion of the company's international profile confirms its position at the leading edge of the hospitality technology sector.
"We've been developing and tailoring both our operating system and the delivery mechanism for years now. We got in ahead of the curve, before the mainstream luxury hotel sector had fully woken up to the importance of this sort of in-room technology, so that now as in-room tablets and digital guest communication systems become increasingly ubiquitous we are clearly the most experienced and innovative operator in the field," he said.
Crave created the world's first tablet designed specifically for use in hotel rooms in early 2015, immediately setting the company apart from competitors which delivered their systems through consumer model tablets. The Lainston House installation will feature the Crave T2, an upgraded version of this unique custom-made tablet.
"Our experience had shown us that consumer models weren't always a perfect fit for a luxury hotel setting – in terms of everything from the built-in features like the camera, to the docking and charging system, and the physical look of the product. We took the obvious step of using all the customer feedback we'd gathered over the years to create something entirely new," Gareth Hughes said.
According to Tim Butterworth the most recent installation at Lainston House is an important reminder of the versatility of Crave's tablets and operating system.
"In the last twelve months much of our headline action has been in huge hotels and beach resorts on the other side of the Atlantic. But Exclusive Hotels and Venues were actually one of the very first groups to recognise the value of our in-room tablets, with their installation at South Lodge in Sussex.
"It was in precisely this sort of exclusive, high-end country house hotel setting that we first honed the Crave product, and developed the finesse that's now taking us all over the world. It's great to be able to demonstrate that we're still thoroughly attuned to the needs of this particular style of property with the Lainston House installation. Our tablets now appear everywhere from boutique hotels with just a handful of rooms, to the biggest casino resorts on the planet," Tim Butterworth said.
For Gaius Wyncoll, General Manager of Lainston House, the decision to install Crave's tablets was an easy one.
"We've seen how integral to the luxury guest experience, and how important to the revenue stream, Crave's technology has become at the three other hotel properties in the group, so we knew that we needed to follow suit," he said.
/////
About Crave Interactive
Formed in 2009, UK-based Crave Interactive Ltd is the leading developer of guest-facing hotel tablets and app solutions worldwide, helping hotels provide great service via in-room tablets and guest-owned devices.
Crave's services are powered by Crave Cloud, a sophisticated proprietary software platform that delivers excellent guest services via any device. To date over 1,250,000 items have been ordered via Crave Cloud.
Crave in-room tablets and apps provide a full range of guest services in a sleek and stylish manner. Crave solutions can replace paper directories, and increase revenues of in-house services, such as spa treatments, restaurant bookings and merchandise sales. Nearly all guests engage with Crave in-room tablets, viewing an average of approximately 50 pages per guest night.
Contacts
Tim Butterworth, Chief Commercial Officer
tim.butterworth(at)crave-emenu.com
+44 (0)7977 473245
Gareth Hughes, Crave Founder and CEO
gareth.hughes(at)crave-emenu.com
+44 (0)7785 551196
/////