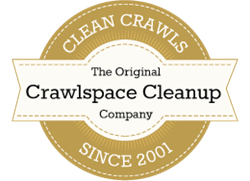 Homeowners are becoming more knowledgeable about the home they live in.
Seattle, WA (PRWEB) September 27, 2013
Most homeowners understand the need for maintenance throughout their house. However, many consumers don't realize the reasoning behind said maintenance, nor do they fully understand why certain aspects of their home exist. As a result, Clean Crawls has produced an article outlining the necessity and convenience of crawl spaces, as well as showing why proper maintenance is important.
The article begins by explaining why basements are not a more common solution. "While slab foundations are cheaper than crawl spaces, crawl spaces are much cheaper than basements. In some cases, slabs are either unwanted or impractical. Because crawl spaces are not as expensive as basements, they tend to be the go to option for those situations where money is a constraint."
In addition to cost effectiveness, Clean Crawls lists frost prevention as another primary reason for crawl spaces. Simply put, slab foundations can't handle extreme cold, and could potentially crack and crumble under the strain of weather fluctuations. Access to utilities, unsteady topsoil, and purely aesthetic value are three more reasons for crawl spaces that the article describes. By reading it, homeowners are becoming more knowledgeable about the home they live in, as well as how to maintain it.
About Clean Crawls:
Clean Crawls provides attic and crawl space cleaning, weatherization, and insulation services. Homes and businesses alike have the opportunity to be clean and healthy at affordable rates, as well as save energy throughout the year. Visit http://www.cleancrawl.com today for more information and a free quote.
3707 124th St NE
Marysville, WA 98271
(866) 651-1700