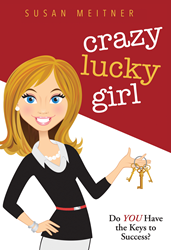 "...You'll walk away knowing how to get what you want out of your business and your personal life!"-Barbara Corcoran, SHARK on ABC hit show SHARK TANK
Maple Glen, PA (PRWEB) October 01, 2014
"Crazy Lucky Girl: Do YOU Have the Keys to Success?" was released September 25 and is already an Amazon #1 Best Seller! Written as a "how-to guide for Women entrepreneurs"; Susan Meitner walks her readers through the trials, tribulations and successes in starting her own Mortgage Banking Company.
Drawing on two plus decades of practical experience in Banking, Susan Meitner shows how she parlayed her knowledge and hunger for business into the CEO position with the Centennial Lending Group, LLC. and hopes her story will empower young women to follow their passion of Entrepreneurship and business ownership.
"Crazy Lucky Girl" is narrated by Susan Meitner and recounts her career from her start as a "staff administration" employee in a national mortgage company through mid-level managerial positions, Vice President and finally to opening her own Mortgage Bank and becoming CEO.
In the book, Susan points out the roadblocks and obstacles she faced in achieving her success and offers clear and concise "best practices" on how to avoid the pitfalls she experienced.
Additionally, Susan is a member of Entrepreneurs' Organization, Mortgage Bankers Association, and was recently inducted into Worldwide Branding. She is also on the Board of Directors for The Mortgage Collaborative and over the course of her career, has won a variety of awards, including being featured in "Philadelphia Magazine" as a Five-Star Professional for four consecutive years. For 2014, Susan Meitner, was included in the "Inc. 5000" where she was ranked #3 in their Top Women in the Fastest Growing Privately Owned Companies - in the same publication, her company, Centennial Lending Group, LLC., was ranked #64 out of 500.
Reviews:
"Crazy Lucky Girl is a go-to book for salespeople and managers alike. Sue Meitner shares the story of her journey, the lessons learned, and all her tricks to becoming a successful businessperson and topnotch salesperson. You'll walk away knowing how to get what you want out of your business and your personal life!"
-Barbara Corcoran, SHARK on ABC hit show SHARK TANK
"Having built several mortgage companies into national powerhouses, I know what it takes. After reading Crazy Lucky Girl, it's clear Susan Meitner knows the keys as well. If you are looking for success in the mortgage business, look no further - Read This Book!
-Jack Daly, Author of Hyper Sales Growth and world renowned sales expert
"Sue Meitner has created the number one book for all loan officers and managers in the mortgage world. Full of humor, warmth, and sage advice on a broad range of subjects from salesmanship to integrity. This is an important work to be read and reread until the pages are dog-eared and fading! If everyone adhered to Susan Meitner's principals we would not have created a mortgage crisis!
-John M. Robbins CMB, Chairman, Mortgage Bankers Association 2007
Crazy Lucky Girl, can be purchased via the website at http://www.CrazyLuckyGirl.com, on Amazon at CrazyLuckyGirlBook, Barnes and Noble and the iTunes stores and is available in electronic and hardback versions.