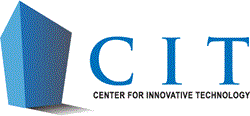 CRCF is an important part of CIT's efforts to advance innovation and entrepreneurship in Virginia
Herndon, VA (PRWEB) October 14, 2013
The Center for Innovative Technology (CIT) announced today the release of the Commonwealth Research Commercialization Fund (CRCF) annual report for FY2013.
CIT President and CEO Pete Jobse said, "CRCF helps accelerate innovation and company formation and solves important problems on the local, national and global levels by funding technology research, development and commercialization. CRCF is an important part of CIT's efforts to advance innovation and entrepreneurship in Virginia."
In FY2013, CIT issued 42 CRCF awards to various research and development projects performed by universities, companies and research institutes across Virginia. CRCF leveraged the Commonwealth's $3 million investment with approximately $5.7 million in matching funds. The projects address serious challenges in sectors such as life sciences, cyber security and advanced manufacturing. All CRCF awards support projects in sectors named in the Commonwealth Research and Technology Strategic Roadmap as areas with commercial promise that will help drive innovation and economic growth within the state.
The FY2013 solicitation included five programs: Commercialization, Facilities Enhancement Loan, Matching Funds, SBIR Matching Funds and STTR Matching Funds. In FY2013, 104 proposals were submitted from seven of the ten technology regions in the Commonwealth and in all 11 industry sectors identified in the Roadmap.
CRCF supports technology development in such areas as early diagnosis and advanced therapeutics for cancer, treatment and prevention of diabetes, simulation software for homeland security, advanced materials, and prevention of data breaches. Since CRCF's initial solicitation in FY2012, CIT has received proposals from every region across the Commonwealth and in all industry sectors. To date, 89 projects have been awarded funding.
View the FY2013 CRCF Annual Report.
About the Center for Innovative Technology, http://www.cit.org
Since 1985, CIT, a nonprofit corporation, has been Virginia's primary driver of innovation and entrepreneurship. CIT accelerates the next generation of technology and technology companies through commercialization, capital formation, market development and revenue generation services. To facilitate national innovation leadership and accelerate the rate of technology adoption, CIT creates partnerships between innovative technology start-up companies and advanced technology consumers. CIT's CAGE Code is 1UP71. To learn more, please visit http://www.cit.org. Follow CIT on Twitter @CITorg and add the Center for Innovative Technology on LinkedIn and Facebook.