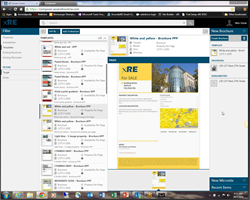 "Our design goal for Composer is to deliver the same quality media usually reserved for A+ listings, and add the capability to pull the data from the property system and then tailor the content for the prospect." - Todd Terry
Dallas, Texas (PRWEB) October 16, 2014
Today Ascendix Technologies officially announced the release of xRE Composer, an intuitive solution to assist brokers in the creation of brochures and microsites to market properties, listings and availabilities. This content creation and publishing system gives everyone the ability to create professional collateral that can be privately branded for any individual or firm. The 50+ templates provided allow you to author content that is consistent in both look and messaging for print, email, and web distribution.
xRE Composer Key Features:

Brand sites and collateral with your company logos and professional profile.
Produce both single and multi-property content.
Post and share on social media channels like Twitter, LinkedIn, Facebook, Google+ and additional CRE specific social sites.
Share with clients and prospects via email.
Print brochures to use as fliers and tour reports.
Integration with other Ascendix CRM solutions to create marketing history to a record.
Create a vanity URL to customize the name of the link for Search Engine Optimization.
After developing xRE Composer we thoroughly tested the tool on various user types from novices to experts to assure that users can start creating the brochures and microsites immediately without extensive training or need for excessive support. This allows you to eliminate a third party resource and streamline the process to create marketing pieces quickly and in house.
xRE Composer can be used as a standalone offering or can be integrated with one of the three existing CRM for CRE tools. Ascendix provides CRM solutions on proven industry leading CRM platforms to give customers the power of choice. When combined with your AscendixRE CRM of choice these marketing pieces can be tracked so that the history of the recipient company and content is all recorded thus reducing traditional islands of information. Future CRM offerings will also provide users the ability to integrate with Composer.
Comments on the News:
"We are constantly trying to find ways to further leverage the data stored in CRM systems to increase the value proposition to the end user. Composer allows for the investment of time in harvesting a critical set of property and availability data to be maximized by facilitating the sharing of that information with external constituents - your customer.
The introduction of Composer to the marketplace represents our first product offering designed as both a stand-alone solution as well as a module for integrating with the top CRM platforms in the market today providing for maximum flexibility in deployment options" – Wes Snow, Co-founder, Ascendix Technologies, Inc.
"This tool gives our customers the edge in responsiveness and personalization when it comes to generating media for listings. Due to the time and specialized skills needed, only the top echelon of properties usually gets the most professional flyers or listing websites. Our design goal for Composer is to deliver the same quality media usually reserved for A+ listings, and add the capability to pull the data from the property system and then tailor the content for the prospect. xRE Composer will change the way brokers from our customers interact with their prospects in Commercial Real Estate." stated Todd Terry, co-founder.
Ascendix, lead by Wes Snow, is hosting a live event on November 19th at 2:30 PM CST. For more information or to register you can call 1-888-FIND-CRM. During this comprehensive review prospects will see exactly how easy it is to create collateral as well as review the future roadmap.
About Ascendix Technologies
Ascendix Technologies has been providing CRM solutions for 17 years and commercial real estate specific solutions for 10 years. Located in Dallas, Texas, Ascendix is the leading provider of CRM solutions, marketing tools and technologies that increase user adoption for global commercial firms.
Additional Resources:
xRE Composer Event Registration: https://www4.gotomeeting.com/register/954901103
Facebook: https://www.facebook.com/pages/Ascendix-Technologies/150219940298
Google+: https://plus.google.com/+Ascendix
Twitter: https://twitter.com/ascendix
Ascendix Blog: http://commercialrealestatecrm.wordpress.com/