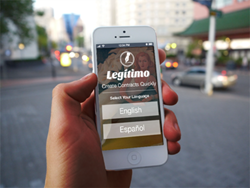 Too often people are victims of fraud due to the lack of a proper contract that spells out the terms of an agreement in plain English or Spanish. Legitimo will serve a great market need within and beyond the Latino community
New York, NY (PRWEB) February 25, 2014
Legitimo is a new android and iPhone app that allows users to create contacts on their smartphones in under 1 minute. The app also translates these contracts to English and Spanish, enabling people that don't speak the same language to enter into legally binding agreements. Currently the app supports the following contracts: service contract, loan agreement, lease and sublease, and sale and purchase contract.
Although Legitimo was founded after winning a hackathon, the app was inspired by the story of a young girl named Julia Ulloa in Los Angeles, whose family got ripped off while planning her own quinceañera party. The venue they had rented was a complete mess and understaffed, ruining Julia's special day. Unfortunately, her family did not use a written contract, making it difficult to prove what was initially agreed upon.
To prevent Julia's situation from happening to others, Legitimo makes it easy for people to make contracts on the go using a smartphone. After choosing a contract template, users are asked a series of simple questions. The answers to these questions are used to automatically generate a custom contract.
Ana Roca-Castro, CEO of Plaza Familia and Founder of LATISM, is one the startups key supporters and says, "Julia's case is not rare. Too often people are victims of fraud due to the lack of a proper contract that spells out the terms of an agreement in plain English or Spanish. Legitimo will serve a great market need within and beyond the Latino community."
In fact, there are over 60 million Americans, and many more aboard, that regularly engage in informal economies that are largely cash-based, making it difficult to take legal action should something go wrong. Legitmo gives ordinary people the power to protect their rights without an expensive lawyer.
Initially targeting the Latino community, Legitimo plans on becoming a global force and serving as a Rosetta Stone for legal contracts.