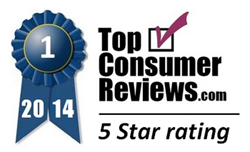 LegalZoom offers a list of LLC packages available for the business owner to choose from.
Overland Park, KS (PRWEB) July 01, 2014
TopConsumerReviews.com recently awarded their highest five-star rating to LegalZoom, an industry leader in assisting individuals form LLC's.
A Limited Liability Company, or LLC, essentially separates a company from its owners. That means owners are provided lawsuit protection and asset protection should the business head south or the company is sued. Forming an LLC can also help with tax savings and benefits not available to a sole proprietor. Many small business owners hesitate to officially form an LLC due to legal costs that can sometimes run into the thousands of dollars - but there are a number of options to create an LLC that don't have to be expensive or complicated.
"LegalZoom offers a list of LLC packages available for the business owner to choose from," explained Brian Dolezal, of TopConsumerReviews.com, LLC. "They've combined several popular services to help save money and streamline the process. The LegalZoom website is informative, professional, and thorough. This allows you to quickly and easily form an LLC without worry. With multiple packages to meet your needs, and an informative step-by-step website, LegalZoom has earned our highest rating."
To find out more about LegalZoom, including reviews and comparison rankings of other incorporation providers, please visit the Forming and LLC category of TopConsumerReviews.com at http://www.topconsumerreviews.com/forming-an-llc/.
About LegalZoom
LegalZoom is the nation's leading online legal document and filing service. Co–founded by attorney Robert Shapiro in 2001, LegalZoom offers a convenient and cost–effective way to take care of common legal needs. LegalZoom service offerings include: Wills, Living Wills, Incorporation, LLC Formation, Living Trusts, Powers of Attorney, Divorce, Small Claims, Trademarks, Patents, Copyrights and more. LegalZoom is not a law firm and does not provide legal advice or counsel.
About TopConsumerReviews.com
TopConsumerReviews.com, LLC is a leading provider of independent reviews and rankings of hundreds of consumer products and services. From LLC Formation to business phone systems and company incorporation, TopConsumerReviews.com delivers in-depth product evaluations in order to make purchasing decisions easier.