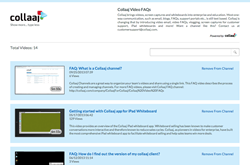 Now, technology like Collaaj enables anyone to create video, just like anyone could create a document.
(PRWEB) October 15, 2013
Collaaj, the enterprise video company, will be present in the Start-Up-Alley section of EduCause's annual conference in Anaheim, Calif. from October 15 - 17. The new eLearning app for the iPad from Collaaj allows for teachers to create video tutorials for students.
Educational experts have stated classroom learning is evolving to a hybrid model combining face-to-face and online methods. With the help of technology, teachers can reinforce problem solving and lectures in the classroom as well as at home with a higher success rate. These tutorial videos allow for students to learn lectures at home while taking on concepts and problem solving skills with the assistance of a teacher during class time.
"Video technology plays a huge role in this new era of education," says Ranga Jayaraman, a veteran Silicon Valley CIO and advisor to Collaaj. "Videos, in the past, were a project. An instructor had to get into a room, and a videographer had to take the video, edit it, and then publish it to a central location. Now, technology like Collaaj enables anyone to create video, just like anyone could create a document. The focus has also moved away from hour long videos to bite sized short videos that convey just a concept or walk through a problem solution, rather than explain the whole lesson."
The eLearning app for iPad allows for any educational professional to create an informative video tutorial within a matter of minutes providing a new learning tool to explain classroom concepts and walk through presentations. Teachers and assistants have the ability to explain any homework assignment related topic, or walk through problem solutions with the assistance of the iPad whiteboard app. Each video can be edited and published to custom branded Collaaj channels to organize them in one place and to share with the class.
The eLearning software experts are currently offering a huge discount for educational users. For more information, contact customersupport(at)collaaj(dot)com and ask for your 'Edu' discount.
For companies interested in partnering with Collaaj, please contact partners(at)collaaj(dot)com. Don't forget to come look for Collaaj at EduCause in the Start-Up-Alley! For more information about Collaaj, visit https://www.collaaj.com.