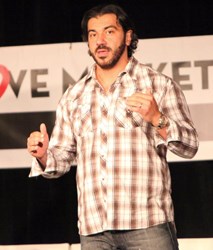 This very coaching program has literally added millions of dollars to the bottom lines of many of the highest level fitness info marketers whose names you probably already know. - Bedros Keuilian
Chino Hills, CA (PRWEB) August 16, 2013
Bedros Keuilian, fitness info marketing expert and entrepreneur, has just launched an exclusive program to teach personal trainers with ideas for ebooks, workout videos, or websites on how to create a fitness info product and generate massive profits.
The 100K Info Group Mastermind, lead by Keuilian and successful online business coach Craig Ballantyne, is a 12 month coaching program dedicated to take personal trainers and fitness entrepreneurs from idea to product and from product to market to get them on pace to earn at least a $100,000 per year income by the end of the 12 month program.
Keuilian explains, "If personal trainers already have an online information program or ideas for products and want to up their game, boost income, drive more traffic and take their business to the next level, then this is the higher level coaching that will get them there because this very coaching program has literally added millions of dollars to the bottom lines of many of the highest level fitness info marketers whose names you probably already know."
The 100K Info Group Mastermind meets three times a year for an entire weekend. Each mastermind meeting is designed to figure out where personal trainers are in their business, figure out where they want to be in the next 90 days, and help personal trainers figure out what they need to do to get there in the fastest way possible.
In between the mastermind meetings, personal trainers have access to the private online group where they share everyday the newest promotions that work for their business and the big business breakthroughs they are having. Plus, each month personal trainers get access to Keuilian and Ballantyne via email and phone to answer any questions they might have as well as give them direction and guidance when they need it the most.
About Bedros Keuilian
Bedros Keuilian has been called the hidden genius behind many of the biggest names in the fitness industry – including top celebrity trainers seen on networks such as ABC and NBC. Keuilian is the founder of the popular fitness marketing blog used by thousands of personal trainers worldwide, PTPower.com and president of the world's fastest growing indoor fitness boot camp franchise, Fit Body Boot Camp. Keuilian is a long time fitness business consultant and marketing expert who has taught thousands of personal trainers worldwide how to grow a personal training business. To find out more about Bedros Keuilian, his blog PTPower.com, or the 100K Info Group, please visit http://www.ptpower.com/ and http://www.100kinfogroup.com/ .