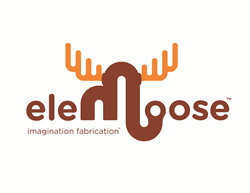 In the business of 'imagination fabrication,' stepping outside of the comfort zone is a requirement.
Springfield, Mo (PRWEB) December 07, 2015
Southwest Missouri creative ad agency, deep, unveils the rebranding strategy for the company Elemoose™, formally known as Garage Graphics and Visuals®.
Operating in the Springfield area for the past 20 years, Elemoose is a full service fabricator specializing in signage, exhibits, sculptures, stage sets, architectural and themed elements. The company has worked with clients such as Disney, Six Flags and Silver Dollar City.
"When Garage Graphics approached us in need of a new rebranding strategy, we were excited to partner with such a creative-driven company," says Dan Stewart, partner at deep. "We considered many different directions, but to us, a mythical beast, such as Elemoose, is the perfect representation of their brand and what they do — creating things that do not yet exist."
The deep team gathered input from Elemoose employees to consider the company's culture, personality and work to identify the new brand promise. That brand promise drove the team's concepting session, which led to the Elemoose name. Once identified, the creative ad agency helped introduce the new branding with a responsive website and a video featuring an animation of the Elemoose.
"In the business of 'imagination fabrication,' stepping outside of the comfort zone is a requirement," says Sharon Kuntz, senior copywriter at deep. "Elemoose was an idea that challenged the expected, while encompassing everything Garage Graphics already stood for."
To learn more about deep's work and clients, visit deepgroup.com, and to read more about the creative process of the Elemoose rebranding project, visit deep's blog.
About deep
Founded in 2005, deep is a renowned food-branding agency that creates successful business-to-business and direct-to-consumer advertising campaigns across the United States and around the world. Deep is part of the Marlin Network, which represents over 70 food and beverage brands. The Network also consists of FoodIQ, STARAwards, The Alchemedia Project, Marlin and Marlin Network Consulting. Based out of Springfield, Missouri, Marlin Network is the number one purchaser of foodservice media and was included on Inc. Magazine's list of America's Fastest Growing Companies in 2010, 2011, 2012, 2013 and 2014. To learn more about deep, visit deepgroup.com or follow the agency on Twitter, Facebook, Pinterest, Instagram and the b!eep blog.