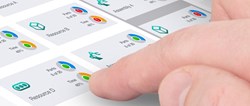 We use the best ERP product in the industry.
Clinton Township, MI (PRWEB) November 26, 2013
Godlan, a manufacturing ERP software specialist (SyteLine ERP), EAM (Asset Management) specialist and Infor Gold Channel Partner, announced today that creative werks, llc continues to grow and lead the food packaging industry since its recent SyteLine ERP upgrade.
creative werks proudly holds an SQF (Safe Quality Food) Level 3 Certification – the highest certification awarded by the Safe Quality Food Institute – and also operates with over 550,000 sq. ft. of climate controlled and food-grade manufacturing space. SyteLine ERP supports the company's quality objectives by storing and providing access to critical data. "The system upgrade provides more transparency and traceability throughout our supply chain, which helps support our safety objectives," said Colleen Coyle, Marketing Manager at creative werks.
Due to considerable company growth, creative werks' ERP upgrade was an important step in its expansion. "Tasks were becoming more time consuming, so we made the decision to upgrade and implement the software to maintain our competitive edge," said John Nienhuis, Director of IT, creative werks, "Aside from innovative technology, the upgrade also reduced paper usage significantly and digitalized the process, a sustainability initiative that is part of our going green werks program."
creative werks provides its clients with the highest level of service possible and relies on SyteLine ERP to uphold this commitment. "We are a leader in food safety so investing in technology that helps with this initiative is critical for success. Godlan has been an important partner with us on this initiative," said Coyle.
Godlan was awarded the Infor North America SyteLine ERP Partner of the Year in 2011, the Infor Regional Partner of the Year 2013 and is an approved Infor Gold Channel Partner serving customers for twenty-nine years. For more information, visit godlan.com or call 586-464-4400.
###
About creative werks, llc
The creative werks team brings over 50 years of experience and entrepreneurial energy to their state-of-the-art manufacturing, co-packing, and design facility. They maintain over 550,000 square feet of SQF 2000 Level 3 food-grade manufacturing space to provide both labor-intensive and automated fulfillment for a wide array of Fortune 500 companies. Their clients value their extensive knowledge of retailers and consumers, as well as their high manufacturing, co-packing, and quality standards. Combined with the creativity of their professional design group, creative werks offers a unique turnkey advantage to companies looking for innovative packaging solutions from concept to market.
About Godlan, Inc.
Godlan is a leading manufacturing performance specialist that has been implementing integrated technology solutions since 1984. As an approved Infor Gold Channel Partner with a focus on Infor SyteLine ERP, Godlan supports the implementation of world-class processes and best practices throughout discrete manufacturing organizations. For more information about Godlan, its mobile application InSync Anywhere, or Infor SyteLine ERP manufacturing software demos, call 586-464-4400 or visit godlan.com.
About Infor
Infor is one of the world's largest providers of enterprise applications and services, helping over 70,000 customers in 194 countries improve operations, drive growth, and quickly adapt to changes in business demands. Infor offers deep industry-specific applications and suites, engineered for speed, using ground-breaking technology that delivers a rich user experience, and flexible deployment options that give customers a choice to run their businesses in the cloud, on-premises, or both. To learn more about Infor, please visit infor.com.
Infor customers include:
+ 19 of the top 20 aerospace companies
+ 12 of the top 13 high tech companies
+ 10 of the top 10 pharmaceutical companies
+ 23 of the top 50 largest US hospitals
+ 43 of the top 50 industrial distributors
+ 26 of the top 35 global retailers
+ 5 of the top 9 brewers