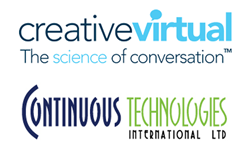 With customer experience overtaking product and price as the number one differentiator for companies, every organisation should be looking to update their CX plans and goals.
LONDON (PRWEB) October 24, 2019
Creative Virtual, a world leader in customer and employee engagement solutions will join partner company Continuous Technologies at the Hong Kong Call Centre Association (HKCCA) Symposium. Creative Virtual Founder & CEO, Chris Ezekiel, is an expert speaker again this year at the event being held at the Hong Kong Disneyland Resort on 31 October 2019.
The 2019 Symposium theme is 'Customer Autonomy' and will explore how recent developments in artificial intelligence (AI) and data analytics are impacting customer experience and customer well-being. Chris will present a session titled 'Smart Self-Help for a Seamless, Omnichannel Customer Experience'. He'll explore top trends impacting APAC customer experience (CX) practitioners and share live demonstrations of how companies can bring together humans and AI to improve customer service and support.
"It's a pleasure to be invited back to support Continuous Technologies and present at the HKCCA Symposium for a fifth year," says Chris. "With customer experience overtaking product and price as the number one differentiator for companies, every organisation should be looking to update their CX plans and goals. However, it's essential to be thoughtful and strategic to ensure these changes both meet customer needs now and are designed for long-term success."
Creative Virtual will also exhibit at the event with Continuous Technologies, showcasing how their chatbot, virtual agent and live chat solutions can help organisations deliver the right information on the right channel at the right time to customers in their native language. For example, the team will share demonstrations of self-service tools in Cantonese, Simplified Chinese and English. Named the 2019 Product Leader in AI-Enhanced Customer Self-Service by Frost & Sullivan, this conversational platform is used by companies throughout the APAC region and around the globe to provide personalised, seamless customer support.
For more information about Creative Virtual's award-winning customer and employee engagement solutions, visit the Creative Virtual website.
About Creative Virtual:
Creative Virtual, winner of the Queen's Awards for Enterprise: Innovation 2017 and Frost & Sullivan's 2019 AI-Enhance Customer Self-Service Product Leadership Award, is a world leader in self-service solutions that enable anywhere, anytime customer engagement between brands and their customers. Leading global organisations including Lloyds Banking Group, BT, HSBC, Chase and InterContinental Hotels Group rely on our award-winning V-Person™ technology to improve their customer support experience, increase sales, reduce costs and build brand loyalty.
Backed by an experienced, expert team as well as an extensive partner network, our innovative virtual agent, live chat, knowledge management and business intelligence platform empower organisations to provide customers with consistent, accurate, personalised and seamless omnichannel engagement across web, mobile, social, SMS, contact centre, service desk, live chat and IVR channels. Delivering significant contact deflection and reductions in average call handling times, as well as increased first contact resolution, together with powerful customer analytics and outcome tracking, the V-Person Smart Help platform is the most compelling self-service product in the world today.
Creative Virtual is headquartered in the United Kingdom with operations in the United States, Australia, New Zealand, India, Singapore and Hong Kong. For more information about Creative Virtual and V-Person technology, please visit our website at https://www.creativevirtual.com.