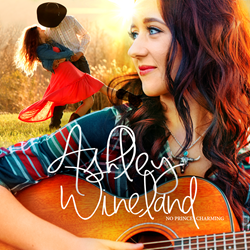 We invite you to meet us at the Creative Doorway, anyone who knocks is welcome. -Creative Doorway Team
PHOENIX, AZ (PRWEB) April 07, 2015
Ashley Wineland, a newly signed Star 1 Country Music prodigy, has found a way to attract an even larger fan base by using the talents of a unique brand creation video production company, Creative Doorway. After recently signing to Star 1 Records, her 90 thousand fans on Facebook were informed of her intentions to build out her new look and music brand in her latest music video project with Creative Doorway. "The record label's plan to use its affiliated company Viacom, as a mass distribution outlet, solidified the importance of perfecting her on-screen appeal." said Manager Brent Wineland. "So we knew it was vital to take Ashley's marketability to a new level with this type of viewable exposure."
"Ashley's new hit single, No Prince Charming, not only marked the coming of age milestone for our artist, but it's subject matter could purposely tell the artist's story through this unique cinema style video production we were about to use." says Star 1 Records Owner Kiki Plesha. Plesha connected Wineland to a host of resources with the intent to position the artist in the break-through music video slots on CMT Television Network. "This opportunity was my chance to positively effect how people initially viewed me as an individual and artist.", states Ashley Wineland in an interview with ION Indy Music Magazine.
With so much weight obviously riding on her first large scale public impression, Creative Doorway President James Buzzacco explained, "it's critical to spend concentrated efforts on the cinematic production components like casting, wardrobe, makeup, and storyboarding to ensure the success of our client's project." Buzzacco contends, "so many artists's fail to be recognized because they are judged purely on the brand package presentation, and never solely on the musical talents they possess. This is the music business showing its teeth. You have a choice to either rebel against this working business model or perfect the visual brand until it's competitive with other chart topping music celebrities. Simply stated; she deserves a fair chance to shine is our philosophy as a branding production company."
The inherent magic created by this unique creative production process enables Ashley, her music producer Bryan Cuban, Viacom, and Star 1 Records to collectively benefit from much more than all the various underground methods artists traditionally use to promote themselves to their audience. "The brand story Creative Doorway creates in this format is a complete ensemble of emotions and expressions that ideally allow Ashley's fans to identify and share; ultimately allowing them to relate to it as if it were their own.", states Buzzacco.
You can view the behind the scenes video here: https://vimeo.com/120970175
About Creative Doorway
Creative Doorway is a creative marketing company that specializes in innovative brand image fabrication. With a skilled team designed to devise the ideal package for company and or personal branding uniqueness. The company's ability to help colorfully story tell using today's most popular mediums is fused with talents to forge graphical, motion graphic video, web, and creative writing content to help launch a multi-dimensional identity for any project in need of a pulse. The premise lies in their ability to create an effective and viral brand story in just 60 seconds.
You can find out more and how Creative Doorway can enhance your brand from the website http://www.creativedoorway.com.