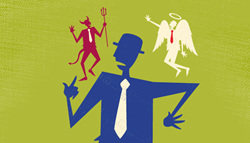 Troy, NY (PRWEB) October 30, 2014
A new issue of Protocol, the marketing report for C-level healthcare executives, was published today by healthcare marketing agency Smith & Jones. Titled "Repenting the 7 Deadly Sins," this report discusses the seven deadly sins of ineffective healthcare marketing and the role of creative in finding redemption.
Many hospitals mistakenly think that a business as serious as healthcare doesn't have room for creativity. HIPAA regulations, malpractice suits and compliance departments can result in healthcare marketing campaigns that flatline. This is often caused by healthcare marketers playing it safe, dumbing it down and forgetting their humanity. The secret is to draw patients in by presenting healthcare in a creative way.
"Compared to other industries, healthcare may not seem exciting, but the infusion of creative imagery and messaging can make it so," said Mark Shipley, Strategy Director and Co-founder of Smith & Jones. "Instead of relying on the same old bad habits, creative healthcare organizations can break through the clutter by finding new ways to express or depict competitive benefits. We caution our clients against being creative solely for the sake of being creative, but a solid strategy will prevent that."
"Repenting the 7 Deadly Sins" reviews seven common mistakes and bad habits, including perpetuating clichés, mimicking the competition and an acute dependence on overly technical medical jargon, along with creative solutions to overcome them.
Access this issue of Protocol to learn about the four other deadly sins of ineffective healthcare marketing and how to save future campaigns at:http://www.smithandjones.com.
About Smith & Jones
Smith & Jones is a healthcare marketing agency based in Troy, NY, that specializes in marketing for hospital systems and large physician practices. Learn more at http://www.smithandjones.com.