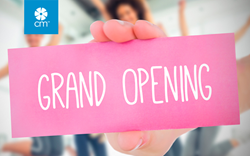 "I loved CM products for many, many years and never wanted to buy from anyone else. I don't need much, just your solid, quality albums and a few accessories. I'm thrilled to see you back!" – Heather B
St. Cloud, Minnesota (PRWEB) November 21, 2014
The iconic Creative Memories brand helped millions of people across the world cherish their memories, so news that CM is back under new ownership has created a swift and enthusiastic reaction.
"So excited to get the coversets with pages again! Looking forward to getting back on track with the scrapbooking products that I love!" – Teri-Lyn S.
Caleb Hayhoe, Chairman of Flowerdale Group Ltd., is the new owner of the thriving Creative Memories® Japan business, as well as both Creative Memories® and Ahni & Zoe™ brands, patents, artwork, products and manufacturing equipment in North America. The new company is under the name CM Group Holdings, Inc. or more simply, CM.
Mr. Hayhoe says, "I am delighted to be part of the rebirth of Creative Memories with the talented teams in St. Cloud, Tokyo and Hong Kong. The enthusiastic response to CM has been incredible and humbling. We are seeing sign-ups around the clock and our new factory is humming. Most of all though, I'm pleased that thousands and thousands of families will be able to continue to preserve their precious memories with the highest quality, photo-safe products in the world."
Exceptional quality is a brand hallmark CM customers can count on. In addition to the proprietary manufacturing and testing equipment, the operations team has an average tenure of more than 14 years and more than 100 years of experience.
The team is proud to offer both Creative Memories classics and Ahni & Zoe's award-winning albums. A&Z fans are happy to have the quick and easy albums back with their fresh and modern designs.
"My life had gotten so busy I wasn't able to make time for scrapbooking, Then I found out about Fast2Fab albums. Love them! I've done three so far, one for me and two as gifts, and they only took about an hour each. Loving this snapbooking!" – Laura T.
Though the products, equipment and brands are the same, it's a new business with an entrepreneurial, start-up spirit and an innovative new earning opportunity that combines the best of ecommerce and social selling. CM Advisors can share the meaningful, wholesome mission and make a little or a lot, with no restrictions or minimums.
"I love the simplicity of the A&Z line and the established reputation and quality of CM combined into one dynamic new company!" – Amy S.
"The new company allows us freedom & flexibility to fit the business to our lives. Getting our own stuff, or making an income...the new plan is so simple! So, let's sell the best products, have fun with our customers, link arms with our sister Advisors, and launch this company!" – Rebecca Q.
"So excited that our products will appeal to both our CM customers and our new A&Z customers. I love how our new owner "gets us," believes in our mission and is changing things so we can be more profitable and successful!" – Cindy M.
People are flocking to the simple, straightforward opportunity that provides true freedom to make it whatever they'd like, while sharing the mission and connecting people through their memories.
CM's Mission:

We believe life is beautiful and moments with family and friends are worth sharing, remembering and cherishing.
We strive to be the leading provider of high quality, innovative memory keeping products globally.
We value our exceptional community of Advisors and take great joy in providing a sustainable, rewarding opportunity that breaks boundaries and shatters stereotypes.
"I love the way this new, simple business and time-tested quality products will help me bring families together through their stories and photos." – Lisa G.
http://www.creativememories.com
https://www.facebook.com/creativememories