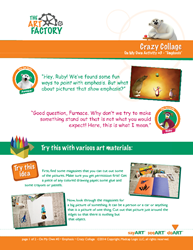 At Madcap Logic we are passionate about giving children the tools they need to understand, interpret, and enjoy art.
Tampa, FL (PRWEB) September 02, 2014
Parents know that Art Education is important for their children, but what exactly is art? Very few adults were fortunate enough to have top-level art instruction in school. Those who did will point out that learning to paint or draw is secondary - there's much more involved.
Art education is so much more than the study of a single subject – it is a gateway to history, science, geography, math, culture, and a world of ideas. It is also one of the best ways to help children develop their critical thinking skills, and explore their own creativity.
The Creativity Express Online curriculum includes 16 lessons with interactive learning activities. Each cross-curricular lesson offers engaging lessons with animated characters, followed by interactive activities to strengthen understanding of the ideas presented.
Children explore art and visual literacy through the three progressive components of Creativity Express : sayART, seeART, and doART. Children are introduced to fundamental art principles and ideas in sayART, discover meaning and interpretation in seeART and explore self-expression in doART. "Creativity Builders' provide the basis for hands-on activities
In addition to the existing 'Creativity Builders' hands-on art projects, Creativity Express now includes a second comprehensive set of teacher/student lesson plans. Designed with younger children in mind, each lesson set of 'The Art Factory' includes detailed step-by-step Teacher guides and 'On My Own' Children's activities.
The combination of the Creativity Express Online content and integrated lesson plans allows homeschool and distance learning families to give their children a comprehensive art curriculum without additional support.
For each of the 16 Creativity Express Online lessons, the integrated Art Factory Plans provide:
1) Group Activity Summary: an overview of lesson content, its educational purpose, and the sequence of hands-on projects.
2) Teacher Lesson Plans: 4-5 plans for each lesson module, these detailed guides move step-by-step:

Overview
Vocabulary
Objective (Students should be able to…)
Class time needed
Materials
Procedure
Extensions
Additional print-out template files as needed
3) 'On My Own' Activities: 2-3 projects for each lesson. Playful character introductions and easy to follow graphics promote creativity and independence.
'The Art Factory' lesson plans utilize both traditional and digital art techniques. They are downloadable from the Teacher Account Center for Creativity Express Online subscribers.
About:
Madcap Logic, LLC was founded in 2003 by former animators from The Walt Disney Company with a vision to re-define Art Education. Collaborating with professional educators they produced Creativity Express, a multi-award winning online curriculum that meets the National Standards for the Visual Arts. Sixteen cross-curricular lessons teach the elements and principles of art, with an added focus on empowering kids' inner creativity, imagination and critical thinking skills.
Today, Madcap Logic is known for developing fun, innovative educational products that help kids achieve a new understanding of the visual world around them. Madcap Logic's App release 'Start With Art!' contains the first four introductory lessons of Creativity Express, and is best suited for ages 7-97. Start With Art! has been accepted into the Google Play for Education Initiative. It is available in the App Store and on Google Play.
Madcap Logic's 'Character Lab' App further showcases the company's artistic talents with an innovative approach to messaging. 'Character Lab' allows for manipulation of characters, props and settings to create unique images that tell visually comic stories. Character Lab is available in the App Store.