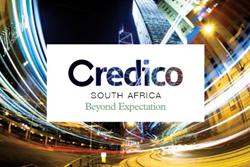 JOHANNESBURG, SOUTH AFRICA (PRWEB) February 13, 2017
The team has had regular meetings to plan ahead for 2017 and beyond, and felt that April 1st provided a good time to benchmark these aims to monitor the progression made thus far.
Aside from the awards, the setting for this year's first ceremony has got everyone at the firm talking. Regularly featuring in articles such as '22 reasons why Cape Town is the best city in the World' - and unanimously voted 'most beautiful city on earth' back in 2014 - it's easy to understand why everyone at Credico South Africa is looking forward to the upcoming awards ceremony hosted there.
Although many of the team have visited Cape Town before, the place never seems to lose its magic. There is a general consensus that this year's venue, which boasts stunning 360 degree views over the city, provides a perfect setting in which to win some silverware.
Hosted at 'The Lookout' on the corner of Grangerbay Boulevard, the venue has a string of exceptional features, capped off by the breath-taking views of Table Bay, Lion's Head and Table Mountain. The versatility of the venue's facilities renders it a perfect setting for Credico South Africa this year, who will need it set up for a premier awards ceremony for well over 100 hundred people. There will be entertainment provided throughout the awards ceremony as a fitting gesture for the hard work contributed by all.
Credico South Africa are delighted with their track record of providing upmarket outsourced sales and marketing solutions to some of the country's most well-known brands. The firm feel that the upcoming awards ceremony in April is the least they can do to say 'thank you' for everyone involved in their client's campaigns.
With experienced and friendly sales forces, Credico South Africa forge personal connections offline in an increasingly online world between clients and consumers. They take the time to learn about each consumer's unique set of needs and requirements. This marketing approach provides tangible benefits to both businesses and consumers, as businesses are able to generate more sales, whilst consumers feel more valued by a brand and benefit from a high standard of customer service.
For more information about the venue, click here.