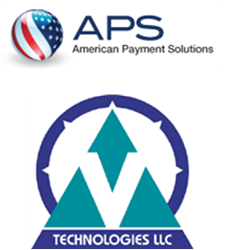 We know mutual ERP software customers are always seeking to improve efficiency via ERP software integrations. There is no doubt working with V-technologies is a perfect partnership to ensure this happens!, said, Phillip Heath, National Sales Director.
Mesa, AZ (PRWEB) December 02, 2015
American Payment Solutions announced today the formation of a strategic collaboration with V-Technologies, LLC. V-Technologies, LLC customers understand the value of automating business processes in favor of getting the best shipping rate. Credit card processing is no different, by collaborating with American Payment Solutions through a series of webinar events, V-Technologies, LLC will educate customers how to get PCI-DSS compliant at no additional cost, lower AMEX fees, how next day funding is possible and available, how to access Level III gateways for lower interchange rates and how to get seamless ERP software integration.
"American Payment Solutions offers ways to cut credit card processing fees and V-Technologies offers solutions to cut shipping fees and both are integrated ERP software applications. We are looking forward to educating our mutual customers in regard to both solutions!" said Caroline Walsh, VP Sales and Marketing at V-Technologies, LLC.
American Payment Solutions offers integrated credit card processing solutions with Sage Software, Microsoft Dynamics GP, NetSuite, Acumatica, QuickBooks and more. Customers can expect to learn how to leverage combined shipping and credit card processing technology for ultimate savings.
About American Payment Solutions
American Payment Solutions is one of the nation's leading credit card processing companies, providing 24/7 award-winning customer support, guaranteed rates, and up-to-date technology to thousands of merchants. American Payment Solutions is a registered ISO/MSP of Esquire Bank, Garden City, NY 11530, and is also a TSYS partner. American Payment Solutions is headquartered in Mesa, AZ with several field offices throughout the United States. For more information, please visit http://www.apsmerchants.com.
About V-Technologies, LLC:
Founded in 1987, V-Technologies is a shipping software development company who has developed a selection of solutions to meet the growing demand for integrated shipping. StarShip™ and ShipGear® are the two flagship shipping software products. V-Technologies develops interfaces with Sage Software's Sage 100 ERP (formerly MAS 90 and MAS 200), Sage 500 ERP, Sage 50, Microsoft Dynamics GP, Exact Macola and QuickBooks. Additional information about V-Technologies and its solutions is available at http://vtechnologies.com