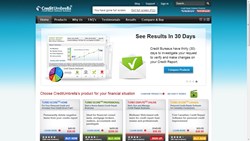 The software has easy-to-use interface allowing one to work on it seamlessly without training.
Glendale, CA (PRWEB) January 07, 2014
Anyone planning to begin a home-based credit repair business can now get an upgraded TurboScore® Professional at the discounted rate of $299, down from $499. A state-of-the-art solution rolled out by Credit Umbrella, it is a limited time offer. Developed in collaboration of seasoned credit repair professionals, the software provides one with all the tools needed to run an independent business.
"The software has easy-to-use interface allowing one to work on it seamlessly without training. It is a comprehensive software product resulting from years of extensive research. It is the kind of solution that will equip you with the desired set of tools to kick off a credit repair business at your home. Moreover, it will take out the complexity of the job," commented a senior executive with the company.
TurboScore® Professional places no restrictions on the number of clients one can handle. Thanks to the extensive library of attorney-prepared dispute letters, these can be set with ease to credit bureaus. One can also run a credit repair web portal that the clients will have access to. The system allows a professional to quickly view the records' progress without having to toggle through multiple customer records. Interactive notes system, a part of software, keeps track of the notes, mailing the customers when there is a note to read.
Credit reports prepared by the software are color-coded, facilitating quick identification of items that have been repaired, deleted, or are still negative. The executive added, "Digital signatures tool makes signing contracts and delivering required disclosures effortless. Existing contracts, power of attorney, CROA disclosure and any other documents can be pasted into a section which the customers can sign electronically."
The company releases major upgrades every 30-40 days giving new functionality to the software, which is designed to protect customers from identity theft and eliminate junk mail. Private label solution enables professionals to customize the portal adding own logo, color scheme and information with no extra cost. New functionality is added to the software without distorting the data stored. One can work to repair credit score easily with the software. Explore (http://www.creditumbrella.com/) more information about it here. Visit creditumbrella.com to find credit report dispute letter template.
About Credit Umbrella
Credit Umbrella has developed feature-rich credit repair programs that are user-friendly and simple-to-operate. Considered among the best credit repair programs, the solution has credit bureau dispute letter template set enabling the professionals to immediately dispatch the letters. Get more info about the program here. The software is available for home users as well as professionals. Know more at this link how to improve credit score fast.
Contact Information
Credit Umbrella, Inc.
655 N Central Ave FL 17
Glendale, CA 91203
United States
Toll Free: 877-824-1121
Fax: 818-484-2273
Website: http://www.creditumbrella.com/