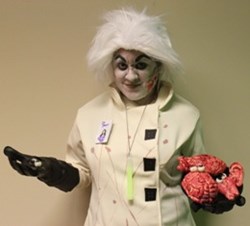 Frisco, TX (PRWEB) October 23, 2013
It's time for a friendly competition among the employees and clients of MSI Credit Solutions.
Each year, MSI holds a Halloween costume contest, one for each group. The employees compete for a cash prize, and the contest is held through Facebook. The one with the most "likes" takes home the prize. A mini photo shoot is also held in MSI's offices to give everyone a chance to show off their costumes.
The client's contest is held in a similar fashion. MSI asks its clients to share pictures of their costumes and invite their friends and family for "likes" on their pictures on Facebook. In this instance, the one with the most "likes" wins a free month of service from MSI.
MSI has successfully removed late payments, tax liens, collections, paid collections, repossessions, charge offs, foreclosures, judgments, and bankruptcies from credit reports. They can help restore credit by auditing both the credit bureaus and the creditors themselves, as well as offering customized plans to meet the needs and goals of each client. MSI is located at 2811 Internet Blvd., Suite 250, Frisco, Tex. Normal business hours are 9 a.m. to 6 p.m. CST Monday through Friday. Call them today at 866-217-9841 for a free credit consultation, or visit their website at http://www.msicredit.com for more information.
About the company:
MSI Credit Solutions provides superior credit restoration and comprehensive consulting services that are reliable and affordable. They embody amicable communication with their clients through each phase of the restoration and rebuilding process. MSI can help clients increase their credit score and develop strategies for credit repair. They pride themselves in catering to each individual's needs, while simultaneously providing personal attention that each client deserves. For more information and a free credit consultation, please give them a call at (866)217-9841.