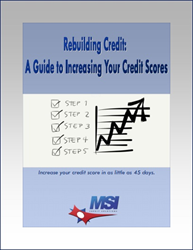 Frisco, TX (PRWEB) June 17, 2014
In an effort to provide further educational tools to consumers, credit repair company MSI Credit Solutions has released a free e-book online through their website. The E-Book "Rebuilding Credit: A Guide to Increasing Your Credit Scores" covers the six most important steps to effectively ensure an optimal credit score.
The six steps cover the importance of payment history, managing amounts owed, aging lines of credit, opening new credit, mixture of lines of credit and fixing credit imperfections. Simple adjustments in these areas can help with optimizing credit scores.
MSI Credit Solutions is always looking for ways to help their customers with all types of credit issues. The company hopes that by reading the free e-book, consumers will gain a better understanding of how credit reports work and how credit scores are calculated.
MSI Credit Solutions offers consumers credit repair services to assist them with their financial needs. Their team of credit repair consultants will guide consumers through the steps of establishing and maintaining lines of credit. To acquire MSI's e-book, visit http://www.msicreditdfw.com/. For more information, call 855-209-9417.
About the company:
MSI Credit Solutions provides superior credit restoration and comprehensive consulting services that are reliable and affordable. They embody amicable communication with their clients through each phase of the restoration and rebuilding process. MSI Credit Solutions can help clients increase their credit scores and develop strategies for credit repair. They pride themselves on catering to each individual's needs, while simultaneously providing the personal attention that each client deserves. They are committed to making a difference in the lives of their clients and providing them with the knowledge and tools they need to become financially independent and successful. For more information and to receive a free credit consultation, please give them a call at (866) 217-9841 or visit their website at http://www.msicredit.com/.