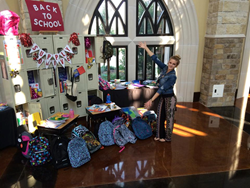 Frisco, TX (PRWEB) August 21, 2014
Once again, it's back to school season! To assist local children in preparing for the upcoming school year, MSI Credit Solutions recently held their annual school supply drive, marking another successful year of helping local families and charities. This year, MSI gathered over 30 backpacks in addition to various school supplies to help those in need.
Through the power of social media, MSI was able to spread the word about their efforts and find families who needed their help. MSI Credit Solutions used social media to reach out directly to any families in the area who may be in need and provided backpacks and supplies to over a dozen local children. The remaining supplies were donated to local church Elevate Life of Frisco, TX to contribute to their school supply drive.
Last year's school supply drive gathered over 400 supplies, including backpacks, spiral notebooks, writing utensils and more. MSI donated the supplies to Friendship House in Garland, TX, a benevolence ministry sponsored by First Baptist Church of Garland.
MSI Credit Solutions is committed to helping those in need and always looks forward to giving back to the local community. They are extremely happy that they were able to contribute to and help make a child's back-to-school experience better. They aim to make next year's school supply drive even more successful than this year's, continuing to expand their reach and support of their community.
MSI Credit Solutions is a credit repair company located in Frisco, TX. They provide credit restoration and consulting services, helping their clients to become financially independent and successful. MSI assists their clients in increasing their credit scores and developing strategies for credit repair.
For more information about MSI Credit Solutions and their recent school supply drive or to receive a free credit consultation, call (866) 217-9841 or visit their website at http://www.msicredit.com/.