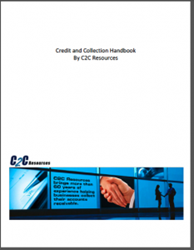 The more businesses we help the fewer businesses go under for financial reasons. Providing entrepreneurs across the country with sound support and help will only help their business, our business, and the overall economy
(PRWEB) April 21, 2015
C2C Resources, the leading Atlanta-based commercial collection agency, is now offering a complimentary download of their own Credit and Collection Handbook, located on the C2C Resources blog site where they publish many helpful collection articles each month. The Credit and Collection Handbook is C2C Resources' latest industry resource addition.
As a proud member of the International Association of Commercial Collectors, C2C Resources has always provided complimentary resources to business across the country with tips, tricks, advice, and education about commercial debt collection.
C2C Resources continues to offer no cost resources to help those businesses collect past due debts. As C2C Resources President Todd Tinkler explains, "We want to be a partner with our clients and help them collect those accounts that they can collect on their own."
Within the many pages of the Credit and Collection Handbook are a variety of credit and collection management tips, tricks, and how-to's that are applicable to a wide range of industries all over the world. A few of the topics covered include:

In-House Collection Strategies
How-To's for Collection Calls and Notices
Handling Disputes and Cash Flow
Skip Tracing
Licensing
Collection Litigation
"The way we see it, the more businesses we help the fewer businesses go under for financial reasons. Providing entrepreneurs across the country with sound support and help will only help their business, our business, and the overall economy," continues Tinkler.
Those who are interested in learning more can click here for a free download of the C2C Resources Credit and Collection Handbook.
About C2C Resources
C2C Resources is a global Commercial Debt Collection agency headquartered in Atlanta, Georgia. The company collects commercial debt on behalf of their over 25,000 clients and is considered one of the top agencies in the country. The executive team at C2C brings more than 60 years of experience helping businesses collect their accounts receivable.C2Cs powerful combination of Profit Maximizer, InfoMax Collection System, and Legal Forwarding Edge, can help your company be more effective with your own in-house collecting and maximize recovery of accounts turned over for collection. For more information, please visit http://www.c2cresources.com.