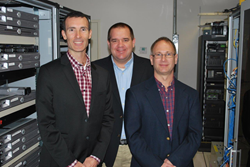 Because of an absence of legal duties for individuals in virtually every state and because of technology weaknesses in the credit system, the fraud is almost never caught or exposed
Massillon, OH (PRWEB) June 03, 2015
SubscriberWise®, a leading provider of analytics driven subscriber decision management technology and the nation's largest issuing consumer reporting agency for the communications industry, announced today that the company president is providing aid and expertise to an Ohio lawmaker and a Common Pleas Judge, regarding alleged fraud in the credit industry.
According to SubscriberWise, this type of fraud has effected creditors, banks, and institutions everywhere. Because of an absence of legal duties for individuals in virtually every state and because of technology weaknesses in the credit system, the fraud is almost never caught or exposed. In the U.S.A., it's a federal crime to:

lie on a credit or loan application
misrepresent one's Social Security number
obtain an EIN from the IRS under false pretenses.
"I fight on behalf of the millions people who are victims of fraud every year," stated David Howe, president of SubscriberWise. "I've contacted Senator Oelslager's office to inform and educate him about protecting the people of his state. I have high expectations for the Senator to consider my advice accordingly. I hope other states follow our lead.
"Last year I met with The Honorable Elinore Marsh Stormer and her court administration in Akron, Ohio," continued Howe. "We discussed many of the same items I intend to cover with the Senator. I conveyed the dangers of this problem and each recognized the seriousness of the matter.
"I look forward to working together with both parties to provide solutions that have a positive and long lasting effect," concluded Howe.
About SubscriberWise and David Howe-
SubscriberWise® launched as the first U.S. issuing consumer reporting agency exclusively for the cable industry in 2006. In 2009, SubscriberWise and TransUnion announced a joint marketing agreement for the benefit of America's independent cable operators. Today SubscriberWise is a risk management preferred-solutions provider for the National Cable Television Cooperative (http://www.nctconline.org).
David Howe has exposed and directly confronted hundreds of child, synthetic, and true-name identity theft cases in his near two-decade career. Howe has provided identity fraud information and training to virtually every level of law enforcement including FBI agents, police detectives, prosecutors, and judges.
Since 2003, Howe has been consulted by every leading communications operator in the country including Sprint, Time Warner, Mediacom, TDS Telecom, Metrocast, Atlantic Broadband, Armstrong, Antietam, Comporium, Grande, Cincinnati Bell, Eagle Communications, ImOn, BendBroadband, NPG, NewWave, GTA Teleguam, GVTC, Cable ONE, Shentel, and many others.
Howe's unbridled passion and demonstrated expertise with credit and risk management can be found everywhere in the industry today. Industry-wide the net positive cash flow for operators using SubscriberWise is measured in tens of millions of dollars annually. SubscriberWise protects billions of dollars of capital investments and programming costs for operators across the nation. Today, SubscriberWise's award-winning technology touches a U.S. consumer every minute of every hour of every day.
SubscriberWise is a U.S.A. federally registered trademark of the SubscriberWise Limited Liability Co.
SubscriberWise
David Howe, 330-880-4848 Ext: 137